Rep. Rodney Frelinghuysen ratted a woman out to her boss after she spoke out against him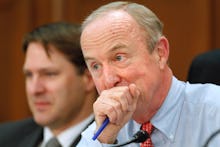 A New Jersey woman, who is part of an organization pressuring GOP Rep. Rodney Frelinghuysen to hold town halls, resigned from her day job after Frelinghuysen personally sent a letter to a member of her employer's board, ratting her out for her political activism, WNYC reported. 
Saily Avelenda is part of NJ 11th for Change, a group that's trying to get Frelinghuysen to host a town hall meeting for the first time in four years.
In a fundraising letter, Frelinghuysen said the group is part of "organized forces" trying to "put a stop to an agenda of limited government, economic growth and stronger national security." According to WNYC, Frelinghuysen personally sent that fundraising letter to a board member at Lakeland Bank, where Avelenda served as a senior vice president and assistant general counsel, hand-writing on the letter, "One of the ringleaders works in your bank!" — a reference to Avelenda. 
Attached to the fundraising email was a news article where Avelenda is quoted about her involvement in NJ 11th for Change.
"I had to write a statement to my CEO, and at my level as an assistant general counsel and a senior vice president, at this employer it was not something that I expected," Avelenda told WNYC. "I thought my congressman put them in a situation, and put me in a really bad situation as the constituent, and used his name, used his position and used his stationery to try to punish me."
Frelinghuysen has extensive power on Capitol Hill: As the chairman of the House Appropriations Committee, the representative has broad influence on what Congress spends money on. He is also part of a New Jersey political dynasty that dates back to the Revolutionary War. 
Ethicists say there's likely nothing illegal about Frelinghuysen's note, because it does not specifically threaten action on Avelenda, but Jordan Libowitz, a spokesman for Citizens for Responsibility and Ethics in Washington, told WNYC the the letter was "troubling" nonetheless. 
Frelinghuysen's office has denied to WNYC that there was any kind of political pressure intended with his personal note to Avelenda's employer.
"The Congressman wrote a brief and innocuous note at the bottom of a personal letter in regard to information that had been reported in the media," his office said in a statement to WNYC. "He was in no way involved in any of the bank's business and is unaware of any of the particulars about this employee's status with the bank."
Mikie Sherrill, a Democrat running against Frelinghuysen in the 2018 midterms, attacked the letter in a statement on Monday.
"This shameful abuse of power by Representative Frelinghuysen is exactly why we need new representation in Congress," Sherrill said in a statement. "Frelinghuysen has gone from simply refusing to meet with his constituents and telling them to 'back off' to threatening constituents who are exercising their freedom of speech. That Frelinghuysen would use his powerful public office to hurt a private citizen is wrong, unethical and immoral."