'The Art of Overwatch' books pop up on Amazon, set to release later this year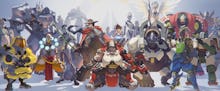 An eagle-eyed Overwatch fan spotted listings for two editions of a concept art-focused book called The Art of Overwatch, as well as an Overwatch comic anthology on Amazon. They're currently slated for release in October, just in time for the holiday season.
Not much is known about these three different books just yet, but here's what we know so far.
NeoGAF user spots Art of Overwatch and an Overwatch comic anthology on Amazon
These listings were spotted by NeoGAF user AlexFlame116. There are standard and limited editions of The Art of Overwatch on Amazon, which will go for $50 and $100, respectively. Amazon currently has them listed to release on Oct. 24.
"In this beautiful hardcover, Blizzard Entertainment reveals the creative process behind one of the most popular FPS games of all time," Amazon's product description says. "Filled with never-before-seen art as well as commentary provided by the game's development team, this book is sure to please any Overwatch fan."
It seems the main difference between the standard and limited editions will be a fancy outer box, as well as some additional prints.
"This deluxe limited edition comes packaged in a beautiful clamshell box with magnetic closure and includes an acetate slipcover featuring the game's most popular hero, Tracer, as well as two portfolios containing a total of three prints chosen by the Overwatch team," the listing on Amazon says.
It's not clear exactly what sort of new information, if any, will be revealed in these books, but it's likely we'll see the ways in which Overwatch evolved out of Titan, Blizzard's online game that was scrapped after it floundered in development for several years. We'll probably also see some early concept art for several Overwatch heroes — like when Lúcio used to wear jorts.
Amazon also has a new listing for Overwatch: Anthology Volume 1, which seems to be a physical collection of 12 of the lore-focused comics that are currently available for free on the Overwatch website. That anthology currently has an Oct. 10 release date and a price of $19.99.
Mic has reached out to Blizzard Entertainment for more information and will update with any response.
More Overwatch news and updates
For more on Overwatch, check out the rest of what Mic has to offer. Here is an essay about how Efi Oladele was a missed opportunity for Overwatch, a deep dive into the issue of sexual harassment in Overwatch voice chat, an unintentionally hilarious infographic showing the most popular Overwatch characters in each state, a criticism of Blizzard's failures in its design of Symmetra and a dive into a cool trend on Tumblr that converts your most-played heroes into a psychedelic illustration.