Why was 'Last Man Standing' canceled? Here's the controversy with ABC's Tim Allen comedy.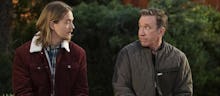 ABC's multi-camera sitcom Last Man Standing starring Tim Allen has been canceled after six seasons. Although show cancellations this time of year aren't exactly news, the conceivable reason behind this particular one separates it from the pack. 
With an average of 8.1. million viewers in its sixth season, Last Man Standing was the second most-watched comedy on ABC — just behind Modern Family, according to Deadline. While low ratings is the usual reason a show gets dropped, it's not the case here. 
Jori Arancio, senior vice president of ABC Entertainment and ABC Studios, told Fox News it was a "scheduling decision" — a somewhat vague response. 
So, what's really going on behind the scenes of this cancellation? One possible motivation lies in the show's more conservative tone. The show follows "a married father of three [who] tries to maintain his manliness in a world increasingly dominated by women," a concept that reeks of toxic masculinity. What's more, the central character of Mike Baxter is a politically conservative Christian who's been modeled after his portrayer's own beliefs. 
Once news of the cancellation hit Twitter, fans were quick to point to the show's conservativeness as potential grounds for its dismissal.
That last tweet strikes a significant chord — not only did Baxter's children bring a liberal voice to Last Man Standing, the series also acted as a sort of counterbalance to the extremely liberal Modern Family. In making the decision to drop the show from its lineup, ABC sent a not-so-subtle message to viewers regardless of its intentions: We value liberal opinions over conservative ones. This could possibly hurt the network's ratings over time, should conservative viewers follow through with threats to start boycotting the channel.
Of course, it's also feasible the cancellation had nothing to do with politics. Vox posited that 20th Century Fox's ownership of Last Man Standing may have been a factor, since the studio stood to reap all the benefits of syndication, streaming services and cable reruns — whereas ABC "pretty much just collects ad revenue at this point." Plus, considering the juggernaut that is American Idol being back in the mix, the cancellation could have really been due to scheduling issues.
Whatever the real reason behind the cancellation, however, it's clear viewers will miss the show.
Mic has ongoing TV coverage. Follow our main TV hub here.