Signs calling Maxine Waters a "race baiter" and "poverty pimp" appear in California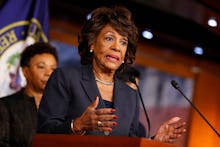 In her calls for President Donald Trump to be impeached, Rep. Maxine Waters (D-Calif.) appears to have made a few enemies of her own.
Waters hosted a town hall meeting on Saturday at Inglewood High School in California, where signs posted outside called her a "race baiter" and a "poverty pimp," and urging voters to "impeach Maxine Waters." It's worth noting it isn't technically possible to impeach members of Congress — Article I, Section 5 of the Constitution names expulsion from the governing body as its most severe form of punishment.
The signs were the apparent handiwork of a self-labeled "politically minded, right-wing-centric" group of street artists known as Unsavoryagents, which posted pictures of its designs to Facebook shortly after the event.
Waters has been vocal in her distrust of the Trump administration, calling him a "pathological liar" and leading a public rallying cry to impeach the president in recent weeks.
According to ABC 7 News, the scene inside the venue where Waters spoke was similarly divisive, with several Trump supporters needing to be escorted off the premises before and during her remarks.
Supporters of Waters reacted by staging their own "counter-protest of sorts," the report noted, by "cheering loudly whenever her remarks were interrupted by hecklers."