Miss USA Kára McCullough wants to call feminism "equalism" — and conservatives love it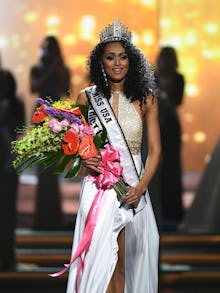 Kára McCullough, the newly minted Miss USA, would very much like to redefine feminism.
In her "final word" on Sunday night's pageant stage, McCullough — a scientist at the U.S. Nuclear Regulatory Commission — said her job persuaded her to trade in feminism for "equalism." 
"As a woman scientist in the government, I've liked to lately transpose the word feminism to equalism," McCullough told the crowd to raucous applause. 
"I don't really want to consider myself, like, this die-hard, you know, 'I don't really care about men,'" she continued. "But the one thing I'm going to say is though — women, we are just equal as men when it comes to opportunity in the workplace."
McCullough's response proved directly at odds with that of Miss New Jersey Chhavi Verg, who pointed out the misconception that feminism is about putting down men.
Unlike McCullough, Verg acknowledged that while many women certainly excel at work, women as a group still face significant obstacles and inequalities in the workforce.
Feminism is striving for equality and I do consider myself a feminist. I think it's a misconception when people believe that feminism is women being better than men. But it's really not. It's a fight for equality. And we need to realize that if we want a stable society, a better future for every single individual, we need to be equal. And that's why I advocate for education for women. Women are still held back in places in the world. They still don't have that right to their independence, that right to their equality — all because of education. And, once we do take that step, I believe that an equal world will be a better world.
McCullough also troubled viewers with her response to a question about health care, saying she believed affordable health care was a "privilege" rather than a right.
These answers won over a whole new bloc of fans: conservatives.
Meanwhile, the conservative Gateway Pundit praised McCullough on her win, taunting "social justice warriors" who suffered a "meltdown" after hearing she'd decried both feminism and universal health care. 
"Beauty and brains," the Pundit wrote. "She is amazing!"