Navigating Trump's America: Donald Trump's pick for FBI director will show his true colors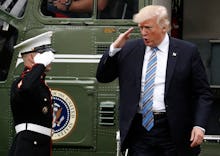 As Washington moves past James Comey's firing as FBI director, the focus turns to who President Donald Trump will appoint to run the law enforcement agency. The eight candidates interviewed at the Justice department on Saturday range from longtime public servants to career Republican politicians.
With Comey gone, Trump's pick becomes hugely important. The new FBI director will oversee the agency's investigation into Trump-Russia ties. So far, the FBI investigation seems likely to remain the most salient inquiry into allegations of ties between the president and Russia (calls for a special prosecutor haven't drawn enough Republican support).
But the differences between candidates are stark. Interim FBI director Andrew McCabe, who was interviewed for the job, recently told Congress he would alert them to any attempt at interference in that inquiry by the White House. Another interviewee, Sen. John Cornyn (R-Texas), the number two Republican in the Senate, has defended Trump's firing of Comey.
Press secretary Sean Spicer has not said when the president will make the decision to hire a new director, though the choice could come by this Friday.
Programming note: This week will not feature any testimony from Comey in front of the Senate. The Senate Intelligence Committee invited Comey to offer private testimony on Tuesday, but Comey demurred. ABC News reports he would rather defend his record in an open hearing — while taking pains to avoid talking specifics of the Russia investigation.
Comey isn't the only one taking a reprieve from the public eye. Trump surrogates were few and far between on Sunday shows.
A little more: Deputy Attorney General Rod Rosenstein is expected to brief senators this week about the Russia investigation. Rosenstein has faced stiff criticism from Democrats, some of whom called for his resignation, over his role in Comey's firing. The deputy attorney general wrote a letter laying out the case for Trump to remove Comey, though reports after the firing revealed Trump may have asked Rosenstein to write the justification for the firing.
This is Mic's daily read on Donald Trump's America. Welcome to the political newsletter that hopes you had a happy Mother's Day. Would you trust an FBI director with a political background?
What We're Watching: 
Today: We could have a new FBI director by the end of this week.
More: Senate Republicans are breaking with the president on a host of issues. It could tank health care reform and other elements of Trump's agenda.
Even more: House Republicans want to target welfare programs to cut $400 billion from the federal budget.
Trump's agenda today: Speaking at the National Peace Officers' Memorial Service. Hosting the crown prince of Abu Dhabi.
The Senate vs. Donald Trump
Trump's agenda might hit another roadblock soon: the Senate. The president's problems in the upper chamber are two-pronged. With a Republican majority of two senators, Democrats view every ensuing Trump scandal as a new opportunity to block the White House's agenda. As we move further away from the inauguration and closer to the midterm elections, Democrats are loathe to give Trump a victory. Just take Sen. Chuck Schumer (D-N.Y.) saying there will be no FBI director until a special prosecutor is named in the Russia investigation. The Democratic leader is largely grandstanding — the FBI director is confirmed by a simple majority, which the Democrats don't have the votes to block — but it would break new partisan ground in the Senate, which confirmed Comey 93-1.
Trump's troubles don't end with the Democrats. Increasingly confident that Trump could be more of a liability than an asset, many Republican senators are no longer rushing to the president's defense. Axios reports Senate Republicans don't think they need the president to win midterm elections. Democratic and Republican senators both called for Trump to release any "tapes" he has from White House conversations with Comey. The New York Times wrote that, from bucking the president on trade and the border wall to passing sanctions on Russia and fighting cuts to drug addiction programs, GOP senators will go their own way in several policy areas.
Perhaps Trump's biggest problem: An early morning tweet from the president doesn't carry the same zing it did three months ago.
A more immediate casualty of the Senate not working with the White House: The American Health Care Act. The bill, which cleared the hurdle for passage in the House by one vote, entered the Senate on life support. It may never get a hearing — something which could be guaranteed by further Senate obstruction of Trump.
Meanwhile, in the House: Republicans have plans to cut food stamps, benefits for veterans and income assistance for people with disabilities. That's part of their goal to eliminate $400 billion from the federal budget next year. The cuts could help make their spending bill not increase federal debt, which would allow them to evade the need for Democratic votes in the Senate. But the political consequences of cutting welfare programs could outweigh the short-term benefit of advancing a congressional budget.
Trump's trip to Israel, Saudi Arabia and Rome
The president will leave Friday for his first foreign trip. Trump is expected to make news during his travels to Saudi Arabia, Israel and the Vatican. With National Security Adviser H.R. McMaster saying last Friday the president supports "Palestinian self-determination," he indicated Trump may signal his support for a two-state solution between Israel and Palestine — the longtime U.S. policy position Trump seemed to shift from earlier this year. The president will also challenge Saudi Arabia to do more in the fight against the Islamic State. His stop in Rome will display a "message of unity" — throughout the trip, the president will visit Christian, Muslim and Jewish holy sites. "President Trump understands that America first does not mean America alone," McMaster said Friday. We'll see if other world leaders feel the same.
News and insight you cannot miss:
•  A Politico investigation of stock trading by members of Congress shows some lawmakers regularly trade in companies they have jurisdiction over. (Politico)
•  The owner of more than 170 television news stations in the U.S. is requiring broadcasts that promote a right-leaning agenda. (New York Times) 57% of Americans still often get news from television, with much of it coming from local TV news. (Pew)
•  In an exclusive with Mic, Bill Gates shares his advice for this year's college graduates. (Mic)
•  Trump's staff feeds him fake news. You read that right. (Mic)
•  The former director of national intelligence: Trump has U.S. institutions "under assault." (Mic)
•  As confederate statues were removed, white supremacists protested and chanted, "Russia is our friend." (Mic)
•  Software stolen from the National Security Agency was used in a cyberattack on over 100,000 organizations around the world. (Mic)
•  North Korea says it's open to talking to the U.S. — after recently completing another nuclear missile test. (Mic)
May 15, 2017, 1:31 p.m.: This story has been updated.