'Injustice 2' Cutscenes: Watch them all right here if you don't care about spoilers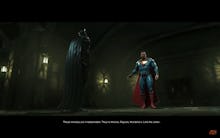 Cutscenes are one of the coolest parts of any game — especially a game about superheroes. Like the first game in the series, Injustice 2 is filled with cutscenes — almost three hours of them, actually.
Spoiler warning: Stop reading now if you don't want the plot of Injustice 2 spoiled for you.
Watch all the Injustice 2 cutscenes
If you're interested in the cutscenes for Injustice 2, look no further. Since there are so many, the videos are a over an hour long each.
When edited together, the cutscenes make up a large movie with fighting scenes that act as the gameplay. Each scene gives the viewer a little insight into the current conflict within the game, as well as the opportunity to meet all of the characters.
Here's the first part of the cutscenes:
Here's the second part. Keep in mind that this video also shows both endings of the game, so be careful if you want to avoid ending spoilers.
More gaming news and updates
Check out the latest from Mic, including our list of video games that made fun of their players, a personal essay about dealing with anxiety through Breath of the Wild, a look at the racist and sexist experiences in esports and a plea for better character customization options for black characters.