JetBlue allegedly kicked black family off flight over birthday cake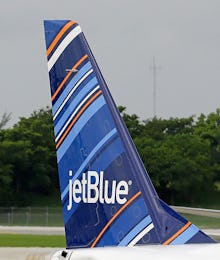 A New Jersey family is threatening to sue JetBlue airlines for removing them from a plane over a birthday cake on May 3.
As Cameron Burke — along with his wife and two kids — boarded his flight to Las Vegas from JFK International Airport in New York City, the family stored a birthday cake in one of the airplane's overhead compartment bins, which are reportedly reserved for emergency equipment.
According to the Huffington Post, a JetBlue spokesman claimed the family repeatedly refused to remove the cake from the bin at the airline's request. "The customers became agitated, cursed and yelled at the crew and made false accusations about a crew member's fitness to fly," a statement from the airline read.
Burke denied those allegations to WABC News, an ABC affiliate in New York. A video uploaded to social media seems to back Burke's version of the story. In the video clip, his son can be seen crying and his daughter saying, "Daddy, I feel scared." Burke is also seen speaking with a Port Authority officer.
Burke tells the officer they removed the birthday cake from the bin and placed it on the floor. Though the officer says "No one did anything wrong," the airline carrier ordered the family be rebooked on another flight.
JetBlue, however, insisted the video "doesn't capture the whole story," HuffPost reported. It also claimed the family acted completely different once the camera was rolling. "The video circulating does not depict the entire incident and only starts after the objectionable behavior occurred and law enforcement were called," an airline spokesperson told HuffPost. 
The airline said the decision to remove the Burke family from the flight came from the captain, who considered their behavior a security risk.
"The captain determined the customers' behavior demonstrated a risk for additional escalation in air and would not be allowed to fly," the statement added. "A full refund was given. The remaining customers reboarded and the flight departed without further interruption."