Want a castle? Italy may let young entrepreneurs revamp public buildings to boost tourism.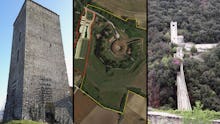 Alas, reports that the Italian village of Bormida is giving away $2,000 in cash to entice new residents turned out to be premature. But a very different deal might be available to young entrepreneurs: Depending on how a new initiative from the Italian government shakes out, there might be a free castle, villa or monastery in it for you — if you're willing to work for it. 
That's all thanks to a new initiative called "cammini e percorsi" — or "roads and paths," in English — designed to bolster tourism outside of Italy's major cities. Starting in 2017, the state plans to grant, for at least 9 years, approximately 100 properties along several of Italy's historic travel routes, including the Appian Way, to young entrepreneurs or companies with most employees under age 40 that agree to refurbish them.
When contacted by Mic, the Italian agency behind the initiative did not confirm whether or not non-citizens will eligible to participate. But the department did send along a survey, closing June 26, with open-ended questions on how respondents would approach the project — suggesting that at least for now, anyone can try their hand at wowing officials with their ideas.
The properties include both small and large structures; the idea is to convert them into restaurants, spas and other recreational or tourist attractions, after a public review process. Many places will cater to cyclists, walkers and pilgrims covering religious travel routes. The ultimate hope, according to the government site, is to promote so-called slow travel, or tourism emphasizing relaxation and connecting with locals, rather than "manic sightseeing." 
In addition to the free property, HuffPost Italy reported, the program will also provide three million euro in mentoring to help participating startups during their first two years in business. Different properties may have different rules and criteria, further details about which a press release stated will be released over the summer. That makes sense, since the buildings vary widely in size and state of repair — many are fixer-uppers. 
The grants, or "concessions," will be nine years long, with the possibility of extending for another nine years, according to the site.
Public-private partnerships have similarly been used to bolster tourism in the United States. For example: The 2009 Travel Promotion Act established a fund to promote tourism to the U.S. that combines private and public money. That initiative is funded in part by the U.S. Visa program and by private companies that benefit from higher rates of tourism. 
Sign up for The Payoff — your weekly crash course on how to live your best financial life. Additionally, for all your burning money questions, check out Mic's credit, savings, career, investing and health care hubs for more information — that pays off.