'Assassin's Creed: Origins' Switch: Egypt-set game likely not coming to Nintendo's device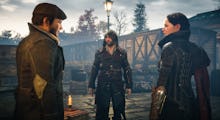 The Nintendo Switch has already had two big first party releases. Legend of Zelda: Breath of the Wild was a launch title and Mario Kart 8 Deluxe arrived on April 28. However, aside from a lot of promising indie support for games like like Dead Cells and Axiom Verge, third-party support for the Switch is a little lean. 
Case in point: Similar to other M-rated games like Persona 5 or Call of Duty: WW2, you shouldn't expect Assassin's Creed: Origins (previously referred to as Empire), the next installment of Ubisoft's historical action game to be coming to the Switch. Here's why.
Assassin's Creed: Origins Switch: Ubisoft admits there isn't much of a market
According to Emily Rogers, a former games journalist-turned-developer, Assassin's Creed: Origins isn't coming to the Nintendo Switch. She wrote on her personal Wordpress site on April 27 that all of the announced Ubisoft titles for the Switch — Rayman: Legends, Just Dance, Monopoly and Steep — are all family-friendly. In addition, the only other game that's in the pipeline is Mario + Rabbids: Kingdom Battle. Barring a heel turn for the ur-Minion Rabbids, chances are good this will also be family-friendly.
Rogers noted that we should see a pattern emerging: No mature-rated games like Ghost Recon, South Park, Assassin's Creed or Splinter Cell were brought up with relation to the Nintendo Switch. Ubisoft isn't even porting Zombi U. 
Although it might seem a little pre-emptive to say so, Rogers cites a Game Informer interview with Ubisoft's Yves Guillemot where he explains the relative dearth of mature video games the developer ports to Nintendo consoles.
It's very simple. What we see is that Nintendo customers don't buy 'Assassin's Creed.' Last year, we sold in very small numbers.
Rogers ends that portion of her post by writing, "Since nobody is reading this blog, I'm going to share a little secret with you guys. *Psssttt* Assassin's Creed: Empire is not coming to Switch."
So there you have it. Maybe something will happen in the future to make Ubisoft change it's mind, but for right now, don't get your hopes up about Assassin's Creed: Origins coming to the Switch.
More gaming news, updates, tips and tricks
Check out the latest from Mic, including our deep dive into how female Overwatch players are dealing with online harassment, an article about a fan movement advocating for more same-sex romance options in Mass Effect, a personal essay about JonTron written by a fellow Iranian-American and an article looking at cultural diversity in Overwatch.