Kellyanne Conway might not be Trump's No. 1 fan — or a fan at all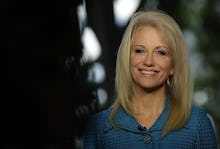 Kellyanne Conway may go on television as one of President Donald Trump's biggest defenders — but according to Morning Joe cohosts, Conway's support of Trump is but an "alternative fact."
On Monday morning, Morning Joe cohosts Mika Brzezinski and Joe Scarborough said Conway would bad-mouth Trump after defending him on air during the 2016 presidential campaign, going as far as to say she needed to "shower" after giving him cover on the airwaves.
"This is a woman, by the way, who came on our show during the campaign and would shill for Trump in extensive fashion and then she would get off the air, the camera would be turned off, the microphone would be taken off and she would say 'Blech, I need to take a shower,' because she disliked her candidate so much," Brzezinski said during the segment.
"I guess she's just used to it now," Brzezinski added.
Scarborough corroborated Brzezinski's assertion, saying Conway referred to Trump as her "client" after the release of the lewd Access Hollywood tape, in which Trump bragged about sexually assaulting women. 
"After the Access Hollywood tape came out, that's when she started referring to Donald Trump as 'my client,'" Scarborough said, adding that Conway's comment suggested, "I don't believe in this guy, he's just my client, it's just a paycheck."
In a Tuesday tweet, Conway refuted Scarborough's claim that she was only working for Trump for the money, calling the suggestion "absurd."
"As a campaign manager, I made a fraction of what other consultants have made on unsuccessful presidential campaigns," Conway wrote. "Then I walked away from dozens of opportunities for millions of dollars, and instead walked into the White House."
Conway added that it's a "privilege to assist President Trump" and that she is "confident in his capacity to be a transformative and successful president." Conway never refuted Brzezinski's story that Conway once said she needed "to take a shower" after coming to Trump's defense on the air.
Brzezinski and Scarborough no longer welcome Conway on their show, saying she is not trustworthy. 
The pair has been vocal in its criticism of other news outlets, including CNN, for continuing to give Conway a platform.
May 16, 2017 1:01 p.m.: This article has been updated.