'Injustice 2' Mr. Freeze: He's in the game, just not in the way you might think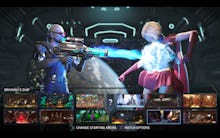 Injustice 2 has a lot of characters to choose from in the DC Universe. With more than 30 characters in the roster and another few announced for DLC, fans are already getting a decent cast of heroes and villains from which to choose.
Some characters didn't have enough material to stand on their own. Instead, they exist as skin variants of other heroes already in the game.
Mr. Freeze is a premiere skin in Injustice 2
While there are multiple heroes that are simply skins of other heroes, those two characters are usually related to one another — replacing one Green Lantern with another, or Robin with Nightwing. Mr. Freeze, however, is available to play as an alternate skin of Captain Cold, two villains that are related by their similar powers.
More gaming news, updates, tips and tricks
Check out the latest from Mic, including our list of video games that made fun of players, a personal essay about dealing with anxiety through Breath of the Wild, a look at the racist and sexist experiences in eSports and a plea for better character customization options for black characters.