Trump's "Protecting Life in Global Health Assistance" goes farther than global gag rule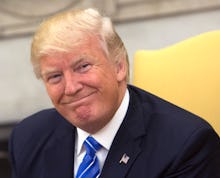 Under the guise of "Protecting Life in Global Health Assistance," President Donald Trump's newly renamed version of the Mexico City policy will reportedly offer nearly $9 billion in government funding to health care organizations around the world, provided those organizations don't offer abortion services.
"The pro-life policy will apply to global health assistance funding for international health programs, such as those for HIV/AIDS, maternal and child health, malaria, global health security and family planning and reproductive health," an unnamed White House source allegedly told the Christian Broadcasting Network, which reported that the State Department would announce the policy Monday. 
The policy is a rebrand of what has historically been referred to as the "global gag rule," a measure adopted by Ronald Reagan in 1984, overturned by Bill Clinton in 1993, reinstated by George W. Bush in 2001 and revoked once more by Barack Obama in 2009. Until now, the GRG barred foreign, nongovernmental organizations that received family planning money from the U.S. from offering or even mentioning abortion services, even if the NGOs used their own money to pay for those services.
After Trump signed the rule into law in January, other countries around the world swooped in to fill what they anticipated would be a $600-million funding gap in global family planning. Despite international pressure, this measure promises to be unprecedented in its extremity. 
As the Guardian reported, Trump's plan will draw its $8.8 billion in foreign aid that the State Department, the U.S. Agency for International Development and the Defense Department already distribute to health care NGOs, rather than simply blocking funding for family planning agencies that cater to basic women's health. 
That will likely mean programs like PEPFAR, an initiative that provides global HIV/AIDS aids relief, receive less money if they don't agree to disassociate from abortion rights. The same would go for any NGO that receives U.S. funding to maintain its public health initiatives — whether those are related to containing the spread of malaria and tuberculosis, for example, or to providing contraception — if that organization did not formally agree to scrub abortion from its services and sever ties with other providers.  
According to the Center for American Progress, the return of the global gag rule will hurt women and girls in vulnerable populations, resulting in fewer screenings and treatment options for sexually transmitted infections, constricted access to contraception and weaker support for healthy pregnancies. 
When the GRG last went into effect in 2001, according to the Center for American Progress, contraception donations from the U.S. shuddered to an abrupt halt, leaving 20 developing countries without the resources on which they relied. Noncompliant organizations saw abortion rates double under Bush, and aid groups forecast that Trump's policy will translate to a surge in unsafe pregnancies and abortions — with deadly results for women and girls worldwide. 
The World Health Organization estimates that, every year, 21.6 million unsafe abortions are performed worldwide, about 86% of them in developing countries. Currently, 13% of annual maternal deaths result from unsafe abortions. We know that outlawing abortion doesn't keep it from happening — if health care providers are incentivized to disavow the procedure, we can only expect that maternal mortality rates will rise. 
"Today, the Trump administration confirmed our worst fears regarding this new, drastically expanded global gag executive order," Sen. Jeanne Shaheen, who introduced the Global Health, Empowerment and Rights Act to repeal Trump's rule in January, said in a statement. 
"This administration's pathetic rebranding of this policy ?is a thinly-veiled attempt to hide the tremendous harm it has around the world," Shaheen continued. "President Trump's dangerous obsession with rolling back reproductive rights has severe consequences for millions of vulnerable women and children, and grossly undermines our nation's humanitarian leadership around the globe.'