New 'Lego Marvel Superheroes 2' Teaser: Full-length trailer release date set for May 23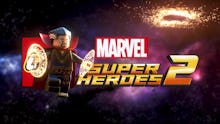 Lego Marvel Superheroes became an almost universally beloved game in the Lego gaming universe. It's been four years since we've had anything new from the Superheroes franchise — until now. On Monday morning, the official Lego Marvel Video Game Facebook and Twitter accounts posted snippets from the official announcement trailer. 
Lego Marvel Superheroes 2: Full trailer release date, characters and more
The official full-length trailer will be released May 23, but based on the brief clip and the game's key art, we'll be seeing Baby Groot, Rocket Raccoon, Black Panther, Doctor Strange, Spider Gwen and even World War Hulk. 
Lego Marvel Superheroes 2 has big shoes to fill, but we're excited to get more information. Keep checking Mic for additional details as they become available.
More gaming news, updates, tips and tricks
Check out the latest from Mic, including our list of video games that made fun of players, a personal essay about dealing with anxiety through Breath of the Wild, a look at the racist and sexist experiences in eSports and a plea for better character customization options for black characters.