'Mass Effect: Andromeda' Romance: Bug unintentionally adds new gay option for male Ryder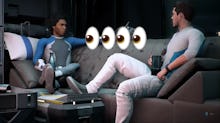 BioWare still has yet to add more male-male romances to Mass Effect: Andromeda as promised, but it looks like a hilarious new bug has taken matters into its own hands — kind of.
In a post on /r/MassEffect, SenselessB shared a video in which skipping through a conversation too quickly caused Scott Ryder to get very, uh — intimate — with Liam. After seeing Liam strut his shirtless bod all over the Tempest, who can blame him, really.
The most recent Mass Effect: Andromeda patch, 1.06, buffed up a few of the game's jankier cutscenes, but clearly there are still some that need more attention.
Anyway, whenever BioWare actually adds more gay romance options on purpose, we'll let you know.
More gaming news and updates
Check out the latest from Mic, including our of video games that made funof their players, a personal essay about dealing with anxiety through Breath of the Wild, a look at the racist and sexist experiences in esports and a plea for better character customization options for black characters.