Penn State Hazing Death: Parents of Timothy Piazza say their son's death was "torture"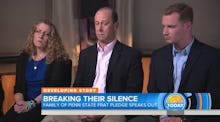 The parents of Timothy Piazza, the Pennsylvania State University sophomore who died of wounds sustained during an alcohol-fueled hazing ritual in February, called their son's death "horrific" in an interview with Today on Monday.
"This — this wasn't boys being boys," the young man's father, Jim Piazza, told NBC's Matt Lauer. "This was men who intended to force feed lethal amounts of alcohol into other young men."
Piazza, then 19 years old, had been participating in an initiation event for new members of the Beta Theta Pi fraternity which involved drinking copious amounts of alcohol when he tumbled head-first down a flight of stairs. Although a subsequent investigation revealed that about 20 of his fraternity brothers had recognized that Piazza was badly injured, all of them failed to dial 911 until nearly 12 hours after the accident.
Two days later, Piazza died in the hospital of a "non-recoverable brain injury."
According to NBC News, Jim Piazza said that a doctor told him that his son might have survived his injuries had he been brought to the emergency room sooner. 
"They killed him," Piazza said, referring to his son's fraternity brothers. "What happened throughout the night was just careless disregard for human life. They basically treated our son as road kill and a ragdoll."
Timothy's mother, Evelyn Piazza, told Today that "Nobody should consume that much alcohol," and noted that the pledge event amounted to "torture."
Although Penn State officials joined the Piazzas during a vigil on campus in their son's honor, Jim Piazza said that no school official had been in attendance at his son's funeral.
"No one from the fraternity or from Penn State came to the wake or the funeral," he said, noting that he had brought a copy of the mass book to a recent meeting with school officials and slid it across the table to them.
"I said, 'Here, since no one had the time to come to the services, I thought you might want to see this," he told NBC.
According to a grand jury investigation of the incident, surveillance video recovered from inside the frat house reportedly shows Piazza's fraternity brothers slapping and punching his unconscious body shortly after the fall in an attempt to wake him. 
Although Jim Piazza told NBC that he has no desire to ever see the footage, he said that he would watch it with school officials who had the capacity to aid in the investigation.
"I don't want to see it as a parent, because I feel like it's gonna be incredibly painful," he said. "And the last memories of my son will be him being abused for 12 hours and dying a slow and painful death."