How to take a selfie with a timer on an iPhone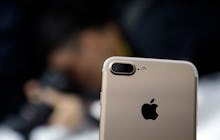 Everyone wants to take gorgeous photos on their phones, and Apple has just stepped in to help you use your iPhone's camera better than ever. 
Apple recently rolled out a series of tutorials showing users how they can optimize their use of their iPhone's camera. One tutorial teaches you how to take a selfie using a timer. This is a functional tip to know for when you want a picture featuring yourself and don't want to ask a stranger to do it for you.
The first step is to make sure your device's front-facing camera is activated. If you cannot see yourself when holding your phone to your face, then click on the camera icon on the bottom right corner to change the view.
To set a timer, select the clock icon from the top of the screen — it is the second icon from the right.
Selecting the clock icon will bring up three options: off, 3s and 10s. Decide between three seconds or 10 seconds.
Once you make your selection, you will see the designated time located right next to the clock icon.
Then, steady your iPhone by placing it on a secure surface or planting it on a tripod. When you're ready, click on your shutter button and step back to pose.
The smartphone will capture an image after three or 10 seconds, depending on what you selected, and the screen will show a countdown so you're ready for the selfie. Both the three second setting and the 10 second setting will capture a burst of 10 photographs.
Remember: Whatever setting you last used will be a default setting for future photos, regardless of whether you are using the front-facing or the rear-facing camera, unless you go back and turn the timer off.