This is the summer to get TSA PreCheck — here's why and how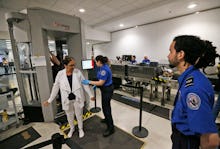 Bad news, frequent flyers: Airport security lines are about to get more difficult. Travelers without TSA PreCheck may have to take food and tablets out of their carry-ons during security, the Wall Street Journal reported on Wednesday.  
This should be your motivation to finally sign up for TSA PreCheck — and the TSA is making it easier with mobile enrollment vans. Several mobile RVs will be driving across the country to conduct PreCheck interviews. 
The "trusted traveler" program, which costs $85 and lasts for five years, allows vetted passengers to breeze through the security line. You don't need to take liquids or laptops out of your bag, and you can keep your shoes and belt on. 
American citizens and permanent residents can schedule an appointment at a mobile enrollment center here. You'll have to input your biographical information and then have an in-person interview at the enrollment center, Charles Carroll, vice president of identity solutions at Morphotrust, the identity services company that dispatches the RVs, said. Travelers can sign up for an appointment up to 45 days in advance, a Morphotrust spokesperson confirmed in an email.
Here's when and where the RVs will be driving to different cities: 
May 
Crystal City, Arlington, Virginia (May 22 - May 26)
June
Concord, California (June 5 - June 9)
July
Oakland, California (July 10 - July 21)
August
Sarasota, Florida (July 31 - August 11)
TSA PreCheck vs. Global Entry
TSA PreCheck can help you cut down on airport time for domestic flights, but Global Entry, another trusted traveler program, is the better choice for international travelers. Global Entry costs $100 for five years, and includes TSA PreCheck (which is $85 on its own). This program allows you to pass more quickly through customs when you return home after an international flight. 
The application process for both programs is slightly different because TSA PreCheck is run by TSA while Global Entry is run by U.S. Customs and Border Patrol. 
How to apply for Global Entry 
Global Entry applicants must have a U.S. passport or permanent resident card. If you have pending criminal charges, you're not eligible, according to this list of requirements from the U.S. Customs and Border Patrol. (You can also apply if you are a citizen of the United Kingdom, Colombia, Germany, Panama, Singapore, South Korea and Switzerland.) 
The application to Global Entry is fairly painless: Fill out the questionnaire online, submit the nonrefundable $100 application fee and schedule an in-person interview at a Global Entry enrollment center. (Enrollment centers are located at certain U.S. Customs and Border Patrol offices and most international airports.) 
"[Customs and Border Patrol] encourages applicants to consider scheduling an interview at an enrollment center where they have upcoming travel," Jennifer Gabris, Office of Public Affairs, U.S. Customs and Border Protection, said in an email. She noted there are 4.1 million members of Global Entry and there are 100,000 new applicants each month. 
Whether you opt for Global Entry or PreCheck, get ready to bask in the glory of expedited security lines this summer. 
"99.9% of people in the PreCheck lane wait less than five minutes," Michael England, spokesperson for TSA, said in a phone interview. Meanwhile, "96% of travelers in the standard lane wait less than 20 minutes," he said.