'Monster Hunter' Switch: Double Cross DLC hints at Capcom eyeing Nintendo's latest console for 'MH'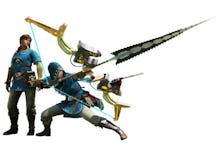 Fans hoping for Monster Hunter XX on Switch need to wait for an official announcement from Capcom. But that hasn't stopped the 3DS game from acknowledging one of the best Switch games around. According to Nintendo Everything, Monster Hunter XX is partnering up with Nintendo and will add in some Zelda: Breath of the Wild goodness by way of DLC.
Monster Hunter Switch: Double Cross receives Zelda-themed clothing options
We've seen glimpses of the Zelda: Breath of the Wild DLC for Monster Hunter in the past. Now we get another teaser with two new videos — including, but not limited to, some killer dance moves from fake-Link. Check out the teaser videos below.
Monster Hunter Switch: When we might see the franchise leave the 3DS
The Zelda DLC is good news for Monster Hunter XX players that are Breath of the Wild fans. But the downloadable content does nothing to answer the question on everyone's mind: Will Monster Hunter be making the switch to Switch anytime soon? 
The last couple major releases of the game have come to Nintendo's dual-screened handheld, so it makes sense to bring the series to the next handheld console evolution. Monster Hunter's arrival on the Switch would, at the very least, reassure buyers that Nintendo is serious about getting third-party games on their newest console.
While Capcom has admitted that they're looking into the game on Switch, they've yet to confirm anything. The Zelda DLC pack is a nice "we see you" for Switch owners — let's hope that vision finds clarity in time for E3 2017.
More Zelda: Breath of the Wild news
Find out all there is to know about Zelda: Breath of the Wild, including if the giant world of Hyrule even has any people of color. Learn how to preserve your items, how to beat bosses like the Stone Talus and Lynel, the best recipes for Link and how to take on the game's shrines. If you're looking to snag a giant horse with little stamina, here's you accomplish that. You'll also want to find out where all the great fairies are in the game, how to use amiibo with your version of Zelda and what went into making Breath of the Wild.