'Injustice 2' Roster: Full character list of every base, pre-order and DLC fighter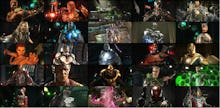 Injustice 2 brings a larger roster of characters than the franchise's first game. NetherRealm Studios brought 28 base fighters, one pre-order character and three downloadable content characters to the table for the game's premiere — in addition to the vast amount of characters from the DC Comics universe.
You can find the complete launch roster of Injustice 2 below. If you don't see your favorite DC character on the list, don't worry. There are more DLC characters scheduled for the Injustice 2 roster in the near future.
Injustice 2 roster: Base game characters
These characters are all included in the base game and are available to everyone who purchases Injustice 2.
Aquaman
Atrocitus
Bane
Batman
Black Adam
Black Canary
Blue Beetle
Brainiac
Captain Cold
Catwoman
Cheetah
Cyborg
Deadshot
Doctor Fate
Firestorm
Flash
Gorilla Grodd
Green Arrow
Green Lantern
Harley Quinn
Joker
Poison Ivy
Robin
Scarecrow
Supergirl
Superman
Swamp Thing
Wonder Woman
Injustice 2 roster: Pre-order bonus character
Those who pre-ordered the game will receive a redemption code to unlock a bonus character.
Darkseid
Injustice 2 roster: DLC characters
These three characters come in the Fighter Pack 1 DLC for Injustice 2.
Red Hood
Starfire
Sub-Zero
More gaming culture and criticism
Check out the latest from Mic, including our list of video games that made fun of their players, a personal essay about dealing with anxiety through Breath of the Wild, a look at the racist and sexist experiences in eSports and a plea for better character customization options for black characters.