How to take beautiful close-up photos with an iPhone every time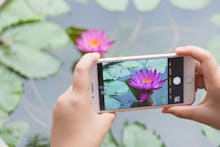 It's no secret smartphones can take beautiful pictures. Now, Apple is sharing trade secrets so iPhone users can step up their photo-taking game. From the tutorials, you can learn techniques like shooting without flash, taking action photos or capturing a close-up to bring out impeccable detail.
Apple advises you to get close — really close — to the subject you're trying to photograph. An ideal distance is within 10 centimeters. Then, tap the screen to focus on a particular area. A yellow square will help direct you, so select the part of the screen that spotlights what you want to fixate on.
To the right of the yellow square is a sun-like icon responsible for controlling the exposure.
Sliding the icon up and down will modify the exposure — up will increase it, while down will decrease it. Play around with this until you find your ideal exposure.
When your focus and exposure are ready — and you're still up close and personal with what you're trying to photograph — click the button to capture the image.