'Call of Duty: Black Ops 3' Zombies Chronicles Maps: See four new areas from the upcoming DLC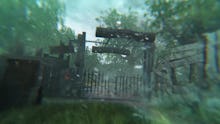 Call of Duty: WWII is launching this November, but if real historical conflicts aren't your thing, Activision is still supporting the futuristic hijinks of Black Ops III with new downloadable content. The upcoming "Zombies Chronicles" DLC pack brings eight classic zombies maps back from the dead — pun intended, and I'm not sorry — for Black Ops III. Thanks to a series of tweets, you can see what some of them look like.
Call of Duty: Black Ops 3 Zombies Chronicles maps revealed
As reported by Kotaku, the official Call of Duty Twitter account has been teasing some of the maps that will return for "Zombies Chronicles." For example, here's Nacht der Untoten, which was created for the first game to feature the zombies mode, Call of Duty: World at War.
The other maps shown off on Twitter are Verrückt, Shi No Numa and Kino Der Toten. All four maps appeared in zombie modes from previous Call of Duty games, so longtime fans will feel right at home. Newcomers, meanwhile, will have even more new content to dig into. If you want to find out about the other four maps not shown in these tweets, head here. 
"Zombies Chronicles" drops Tuesday for $29.99 on PS4, Xbox One and PC.
More gaming news, updates, tips and tricks
Check out the latest from Mic, including our list of video games that made fun of their players, a personal essay about dealing with anxiety through Breath of the Wild, a look at the racist and sexist experiences in eSports and a plea for better character customization options for black characters..