Tracy Morgan's Netflix release time: When to watch his newest standup special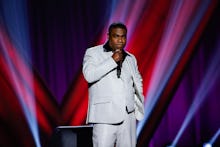 Despite a car accident in which he was critically injured in 2014, comedian Tracy Morgan is making it clear it's going to take a lot more to stop him. He returned to host Saturday Night Live in 2015, starred in a couple new comedy movies — albeit not the best rated, but hey, it's still an accomplishment — and is starring in his own TV show. Morgan's also keeping his standup muscle taut by doing a Netflix comedy special, which premieres on the streaming service on May 16. 
The special is appropriately titled Staying Alive and will drop on Netflix at 3 a.m. Eastern and 12 p.m. Pacific. According to an interview he did with Vulture, it focuses on the accident and his recovery from the traumatic brain injury he sustained. In fact, the opening bit is an homage to the moment before the accident — when he was about to be hit by a Walmart truck.
"I injected my sense of humor into it, y'know, it's the truth," Morgan told Vulture. "I did get hit by a Walmart truck but I'm not supposed to talk about it. I just did it in a funny way like I've done every other thing that happened bad in my life."
One thing the special likely won't go into is politics, as Morgan is staunchly against discussing anything remotely related. This may be a relief for some viewers who have had their fill of comedians talking politics.
The special will, however, touch on Morgan's relationship with his family, and how important it was for him to keep fighting to get better, not just for his career, but for them.
"I have a young daughter, I have a wife and  I got sons, I got to be here," Morgan told People. "I'm a fighter, and I fought. That's what I did with this standup, I fought to do it right."
After the special airs, he plans to take some time off to raise his kids and "study life" before jumping back into more work. That said, he will make an appearance in That's My Time: The Todd Lynn Story, a documentary about outspoken comedian Todd Lynn who died of a heart attack in 2012. The documentary will premiere on Netflix on Sept. 14.
Mic has ongoing Tracy Morgan coverage. Follow our Tracy Morgan main hub here.