The RompHim — a romper for men — is trying to start a fashion revolution. Good luck.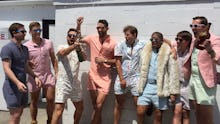 RompHim. It's a romper. But not for her. For him. Get it? RompHim. 
If you're ready for a full-on belly laugh, then this new Kickstarter-funded super-garment (their words), specifically designed for men, may be for you.
But if you're more perplexed than intrigued, wondering why the romper was ever gendered to begin with or why ACED Design is attempting to make the romper some kind of new trend (hello, Mr. Turk!), then, to quote Kandi Burruss during the Real Housewives of Atlanta season eight reunion: "We see each other."
What is the RompHim, exactly?
I'm so glad you asked.
"Is it a romper designed for men? Sure," the Kickstarter page brazenly reads. "But it's also pretty damn comfortable, and it may just be the start of a fashion revolution." 
The site then contradicts itself over in the FAQ section stating it's for "ANYONE [who] wants to make a statement." 
Available in red chambray (looks pretty pink to us), blue chambray and splatter-print cotton (oy), the RompHim also has a "special-edition" Fourth of July-themed romper option that looks like a child's outfit made of rags.
The story behind the RompHim
According to the Kickstarter site, "[The Founders] were sitting around drinking beers one evening and got to talking about men's clothing options out there. Everything was either too corporate ... too fratty ... too "runway" ... or too basic. ... Why wasn't there anything out there that allowed guys to be more stylish and fun without sacrificing comfort, fit and versatility?"
They claim that they "tested [it] on guys of all shapes and sizes" and are offering a "new approach to sizing." But for now, the romper is only available in sizes XS to L — that's right, nothing for guys above a 36" waist. (According to 2010 data from the Centers for Disease Control and Prevention, the average American male waist is 39.7 inches.)
Insert chef's-kiss emoji here.
Will the RompHim actually come out?
As of this writing, just one day after going live on Kickstarter, the RompHim (which will officially retail for $119 after launch) has reached its goal.
Let the revolution begin?