Donald Trump is mulling moving the US Embassy in Israel to Jerusalem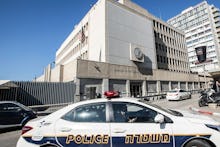 President Donald Trump is mulling moving the U.S. Embassy in Israel from its current location in Tel Aviv to Jerusalem as soon as next week, a move which is virtually certain to enrage Palestinians and other regional governments, CNN reported on Monday.
The U.S. Embassy is located in Tel Aviv rather than Jerusalem because both Israelis and Palestinians consider the city, one of the holiest sites of all Abrahamic religions, their capitals. Israel has held West Jerusalem since the 1948 Arab-Israeli War, but the United Nations unanimously opposed its annexation of East Jerusalem during the 1967 Third Arab-Israeli War and its control of that portion of the city is nearly universally regarded as illegal by the international community.
Moving the U.S. Embassy to Jerusalem would likely be seen as an unambiguous recognition of Israel's claims to complete territorial control, which could set off a political firestorm. Prior administrations of both parties have chosen to ignore a 1995 Republican-backed law ordering the embassy's move in accordance with official State Department policy that the status of East Jerusalem must be determined by peaceful negotiations.
Trump is apparently considering making the announcement next week as the capstone of a much-promoted trip to the city, but has not yet reached a final determination, according to CNN. Some top advisers are urging him not to abandon his campaign promise to do so, though Secretary of State Rex Tillerson told Meet the Press on Sunday that the president was taking a "deliberative approach."
Further clouding the administration's stance on the issue was a recent diplomatic spat after an unidentified U.S. diplomatic official angrily denied an Israeli request that Prime Minister Benjamin Netanyahu be allowed to accompany Trump to the Western Wall, one of the holiest sites in Judaism. The wall lies within the disputed portions of East Jerusalem, and Trump is the first president to choose to visit it.
"What are you talking about?" the official reportedly told the Israeli team helping the U.S. prepare for the trip, according to the Times of Israel. "It's none of your business. It's not even part of your responsibility. It's not your territory. It's part of the West Bank."