'For Honor' Season 2 Start Date, Hero Characters and Stat Changes: Everything you need to know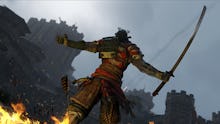 For those of you who enjoyed For Honor when it launched in February but think the game has lost its luster, there's good news: Courtesy of For Honor season two, a whole helping of brand-new content is coming to the multiplayer melee game in the very near future. Here's everything you need to know, from season two's start date to new characters joining the battle.
For Honor season 2 start date: New heroes and maps coming May 16
According to IGN, the second season of For Honor, titled "Shadow and Might," launches Tuesday on PS4, Xbox One and PC. The historically inaccurate sword-fighting game will receive a smattering of new features, including all-new heroes to play with, new maps and and even a new level of gear to unlock. 
First and foremost are two new playable characters. The Centurion is a bruising Roman swordsman who uses a gladius to rip people from close range. On the other hand, the acrobatic and obnoxious Shinobi uses two scythes and a host of movement abilities to drain your health bar before you've even seen them.
For Honor season-pass holders gain instant access to the two new characters. Everyone else gets the ability to buy them with in-game currency beginning May 23, a week after their initial release. Season two also brings two new maps, a new "Epic" gear level and a bunch of balance changes. If you have For Honor, fire it up on Tuesday and give the new stuff a shot.
More gaming news, updates, tips and tricks
Check out the latest from Mic, including our list of video games that made fun of their players, a personal essay about dealing with anxiety through Breath of the Wild, a look at the racist and sexist experiences in eSports and a plea for better character customization options for black characters.