A woman tore apart her congressman's defense of the AHCA in her local paper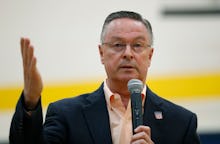 In an age of angry town halls, one woman opted to save her takedown of Iowa Rep. Rod Blum for print.
On May 8, Blum told his constituents that he was eager to get rid of "some of these crazy regulations that Obamacare puts in, ... such as a 62-year-old male having to have pregnancy insurance."
Rather than just booing along with the crowd, Barbara Rank, a retired teacher, went home and penned a scathing — and succinct — letter for Friday's edition of the Telegraph Herald.
"Congressman Rod Blum in a Dubuque town hall (Monday) night asked, 'Why should a 62-year-old man have to pay for maternity care?'" Rank wrote. "I ask, why should I pay for a bridge I don't cross, a sidewalk I don't walk on, a library book I don't read?"
She continued, "Why should I pay for a flower I won't smell, a park I don't visit or art I can't appreciate? Why should I pay the salaries of politicians I didn't vote for, a tax cut that doesn't affect me or a loophole I can't take advantage of?"
Blum isn't the only legislator who's suggested men should be exempt from contributing to women's health care coverage. 
In January, Mississippi state Sen. Chris McDaniel demanded to know why he should have to fund birth control for "unhappy liberal women." And in March, Rep. John Shimkus (R-Ill.) wondered, "What about men having to purchase prenatal care?" — to which Rep. Michael Doyle (D-Penn.) replied, "There's no such thing as à la carte insurance, John." 
Rank's point is similar to Doyle's. 
"It's called democracy, a civil society, the greater good," Rank wrote. "That's what we pay for."