'Mommy Dead and Dearest': A timeline of the Dee Dee Blancharde and Gypsy Rose crime story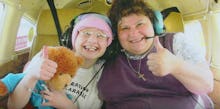 It sounds like the premise of a terrifying thriller movie — a mom, who went to extreme measures to keep her daughter sick, is found dead. The prime suspect? Her daughter. But in fact, that is the real-life story behind HBO's latest crime documentary Mommy Dead and Dearest, which premieres on Monday at 10 p.m.
The mental illness that plagued single mom Dee Dee Blancharde — which compelled her to regularly threaten the health of her child, Gypsy Rose — is called Munchausen by Proxy Syndrome. What exactly led Gypsy Rose to take her mother's life? There's no simple answer to that question, but the following timeline might help clarify why certain events unfolded. 
2005: Seven years before the murder
To the outside eye, Blancharde and Rose seemed to be the pinnacle example of a loving mother and daughter. They lived in Springfield, Missouri, but Blancharde was originally from Louisiana. The small family lived a frugal life. Blancharde had no job and instead lived as a full-time caregiver to her daughter, who was always plagued with a host of illnesses. As a result of that, and the fact that Rose was apparently brain damaged from being ill, she was also homeschooled. Suffice to say, mother and daughter were rarely — if ever — apart.
The two got by on the kindness of strangers — donations, sometimes quite large, came in from individuals and organizations like Habitat for Humanity. Blancharde managed any suspicions about her daughter's numerous illnesses by saying her medical records were lost in Hurricane Katrina and by changing doctors regularly. 
Gypsy Rose's relationship
As BuzzFeed reports, when Gypsy Rose was 18 years old, she began a relationship with a man she met online named Nicholas Godejohn, who was six years older than her. She wasn't allowed to see anyone without her mother's permission, so the relationship evolved in secret online. After knowing each other for a year, Rose admitted to Godejohn that, despite being confined to a wheelchair, she could walk. 
Several months before Blancharde's murder, they met in person for the first time at the movies, where they saw Cinderella. 
The murder and the Facebook post
On June 14, 2015, this Facebook post appeared on Gypsy Rose and Dee Dee Blancharde's shared Facebook page.
After a significant amount of concerns were raised by friends about this disturbing message, Blancharde and Rose's neighbor went over to their house to investigate. She found Blancharde's van parked in the driveway, but it appeared as if no one was home. She called 911. When the police finally got a warrant, they found all of Rose's wheelchairs and Blancharde's decomposing body. Rose, however, was nowhere to be found.
Everyone was quick to assume Rose has been kidnapped, but then, Aleah Woodmansee, one of her only friends, came forward with information about her secret online profiles and relationship with Godejohn. 
The police were able to trace the IP address off of the offending posts on Blancharde's account, and it led them to Nicholas Godejohn in Big Bend, Wisconsin.
The arrest and trial
On June 15, 2015, police officers arrested Rose and Godejohn at his house in Wisconsin. On June 16, 2015, the two were brought before a judge for the murder of Blancharde. 
A year later, in July 2016, Gypsy Rose was sentenced to 10 years in prison for second-degree murder. She'll be eligible for parole when she's 32 years old. Godejohn's trial remains delayed, but he was originally charged with first-degree murder and armed criminal action. 
Check out the chilling trailer for the documentary below.
Mic has ongoing HBO coverage. Follow our main HBO hub here.