'Super Mario Odyssey' Release Date: Spoiler footage leaks of Empire State Building, desert level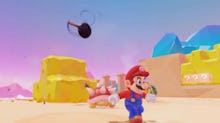 Super Mario Odyssey for Nintendo Switch version is powering ahead for a holiday 2017 release. While there hasn't been much more official footage released since the first glimpse we got back in January, some spoilers have leaked to give us an extra look at Super Mario Odyssey.
Video of the game comes to us from Nintendo Life. Taken at Tokyo Big Sight, we see a few new aspects that weren't present in the Super Mario Odyssey trailer.
Super Mario Odyssey release date: Leaked video shows new aspects of New Donk City
If it wasn't clear before that New Donk City is meant to represent the Big Apple, let this new leaked footage serve as a blatant reminder. In Nintendo Life's footage, we get a close-up view of New Donk's Empire State Building, with a Chrysler Building in the background. 
Not only do we see the buildings, but we also get a sense of the weather effects included in Super Mario Odyssey. The rainy city lets us know that some levels will require you to platform in the rain. Whether or not this has an effect on gameplay remains to be seen. 
After the rainy New York-esque level, we see a very short glimpse of a desert. The official trailer shows us a desert level as well, so it's not exactly breaking news. Still, we're not going to turn up our noses at new Super Mario Odyssey footage.
Super Mario Odyssey release date: What this leaked footage tells us about the game
The most exciting details came out of the trailer's New Donk City portion, which showed a rainy city landscape. Judging by the two iconic buildings included in the footage, it appears the setting will be more than just loosely based on NYC. As for the rain, we can't say quite yet whether or not the weather conditions will have their own gameplay element. If so, let's just hope it's not as painfully frequent as it is in Zelda: Breath of the Wild.
Check out more Nintendo news and coverage
Looking for more Nintendo Switch news? Check out how blind gamers are using the Nintendo Switch and why you can't get your Mii to look quite like you. Nintendo's left Joy-Con issue turns out to be a hardware problem — here's how to solve it. Find out how to buy a console amidst the recent restock. Learn why the Switch cartridges taste so bad. Check out our comparison photos sizing up the Switch to the Wii U GamePad (part one and part two), or find out how to make use of ethernet without the dock and the best way to get alerts when new stock arrives.