'Ink Master' Season 9 Cast Photos Released: Meet the new 'Shop Wars' contestants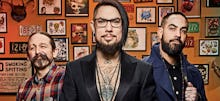 Let the new season of Ink Master begin.
Tattooing isn't a team sport — technically, it's not a sport at all — but Spike is turning the tables on its popular reality competition series. Instead of 18 tattoo artists competing against each other for the title of Ink Master, season nine will feature two artists from nine tattoo shops across the country. The teams of two will compete for the title of Master Shop — and a hefty prize of $200,000.
Judges Oliver Peck, Dave Navarro and Chris Nunez return. Get to know the season nine teams before the June 6 premiere below:
Allegory Arts is based out of Florence, Alabama. Representing the shop in season nine is husband and wife team Eva Huber and Ulyss Blair. The two are shop co-owners and artists who have a combined 25 years of experience. Huber specializes in traditional, while Blair focuses on traditional and realism.
April Nicole and Dane Smith are the artists representing Indianapolis, Indiana, tattoo shop Artistic Skin Designs. Nicole specializes in colorful tattoos and Smith aims to create a piece that is a best fit for his client.
Black Anchor Collective artists Carlos Rojas and Aric Taylor have a combined 40 years of tattoo experience. The two of them specialize in realism at the Hesperia, California, shop.
Located in Mattydale, New York, Classic Trilogy Tattoos is being represented by owner/ artist Thom Bulman and artist Derek Zielinski. Bullman has 10 years of experience and does new school and "cartoony" tattoos. Zielinski has 12 years of experience and is well-versed in traditional, portrait, new school and realism.
Pinz & Needlez artists Jessy Knuckles and Allisin Riot are entering the competition with the least amount of combined experience — Knuckles has five years and Riot has two years. But that doesn't mean they don't have what it takes to win season nine for the Maryland shop. Knuckles loves to do black and white and color realism, while Riot likes to do everything from new school and geometric to realism and watercolor.
The Marked Society Tattoo co-owner and artist Mike P is bringing McDonough, Georgia, shop artist Wes Hogan to the competition. Mike P might only have five years experience tattooing, but Hogan is a veteran with 17 years in the field.
White Plains, New York, tattoo parlor Thicker Than Blood is sending artists Babiery Hernandez and Jhon Campuzano to represent them in season nine of Ink Master. Campuzano has eight years of experience while Hernandez has six years.
Atlanta tattoo artists Danger Dave and Bang work at Tri Cities Tattoo. Bang is one of the artists with the least amount of experience — working four years in the industry. Danger Dave, on the other hand, has nine years of experience. Together, the two are hoping to prove that "artists of color are a force to be reckoned with." 
Owner/artist Erin Chance and artist Doom Kitten are working together to bring home the grand prize for Unkindness Art, a Richmond, Virginia, tattoo parlor. Together they have 16 years of experience in the field.
Ink Master season nine kicks off on Spike on Tuesday, June 6, at 10 p.m. Eastern.
Mic has ongoing Ink Master coverage. Check out our main Ink Master hub here.