Learjet 35 crashes near Teterboro Airport in New Jersey, killing two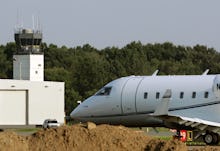 A small aircraft crashed near Teterboro Airport in New Jersey after missing the runway on Monday, setting buildings on fire and blanketing the area in a thick cloud of black smoke.
Two crew members died in the incident, according to the Associated Press. No passengers were aboard the plane when it went down.
According to a tweet from WNBC's Steven Bognar, Federal Aviation Administration officials have identified the aircraft as a Learjet 35, a small-capacity business and military transport jet.
"The aircraft went down about 1/4 mile from the airport in a residential area," the FAA wrote in a statement. "The flight departed from Philadelphia International Airport and was headed to Teterboro. The FAA is en route to the scene. Local authorities will release information about people on board the aircraft."
May 15, 2017, 6:58 p.m. Eastern: This story has been updated.
This is a breaking news story and may be updated as more information becomes available.