Trump revealed classified info to the Russians while bragging about his intel sources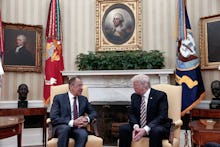 President Donald Trump "revealed highly classified information" to Russian Foreign Minister Sergey Lavrov and Ambassador Sergey Kislyak during a White House meeting last week, the Washington Post reported.
Intelligence officials determined the information was "so sensitive that details have been withheld from allies and tightly restricted even within the U.S. government." 
Trump, the Post reported, seemed to be boasting to the Russians about the quality of the intelligence he gets as the U.S. president. "I get great intel," Trump said, according to the report. "I have people brief me on great intel every day."
Trump's decision to share the information "jeopardized a critical source of intelligence on the Islamic State," the Post added. The information was reportedly provided by a U.S. ally via an intelligence-sharing agreement, and that ally did not give permission for it to be shared with the Russian officials.
The details of what was discussed were not immediately reported as of Monday night, but one anonymous U.S. official told BuzzFeed, "It's far worse than what has already been reported." The New York Times said the information was provided by "a Middle Eastern ally that closely guards its own secrets," suggesting a limited range of possible sources.
Trump's administration fought back against the allegation, with national security adviser H.R. McMaster briefly emerging outside the West Wing to tell reporters "I was in the room — it didn't happen. At no time — at no time — were intelligence sources or methods discussed, and the president did not disclose any military operations that were not already publicly known."
But reporters noted his statement did not rule out the accuracy of the Post report, which did not suggest Trump revealed background information on how the U.S. obtained the intelligence. Russia, which operates one of the world's largest security and intelligence apparatuses, could potentially use whatever was discussed to trace the info back to its original source.
And other reports suggested the White House was internally in disarray, with one White House aide telling the Daily Beast, "Do not ask me how this looks. We all know how this looks."
Adrian Carrasquillo of BuzzFeed News tweeted a group of senior staffers including chief strategist Steve Bannon, communications director Mike Dubke, deputy press secretary Sarah Huckabee Sanders and press secretary Sean Spicer were seen walking into a room, after which point yelling could be heard that grew so loud other staffers turned on TVs to drown it out.
The meeting came one day after Trump fired FBI Director James Comey, who was overseeing an investigation into the president and his campaign's alleged ties to Russian intelligence operatives who leaked embarrassing information about Democrats during the 2016 election. 
The timing of the meeting raised eyebrows around the country. It was later revealed the Russian delegation did not disclose their photographer would be publishing photos of Trump, Lavrov and Kislyak greeting each other and shaking hands via the TASS news agency.
May 15, 2017, 9:20 p.m. Eastern: This article has been updated.