Republicans passed the American Health Care Act. Then only 7% of them held town halls.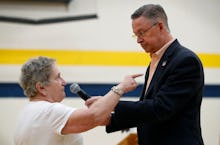 The vote on the American Health Care Act took place on May 4. The bill needed 216 votes in the House and got 217. A day later, elated House Republicans took a 10-day-long recess to go home and talk to their constituents. Very few of them, however, connected with constituents in town hall meetings.
During the recess, which ran from May 5 until Monday, only 17 of 238 House Republicans held town halls — about 7.1% of the GOP House caucus, according to data provided by Town Hall Project, a nonpartisan group that tracks public meetings by members of Congress. 
The number of town halls in the May recess was even fewer than the April recess, when just a fifth of House Republicans held town halls. That means less than half the number of House Republicans who held town halls in April opted to face constituents in a public setting after the AHCA vote.
After the AHCA vote, the blowback against Republicans who did meet voters was vicious. Across the country, Republican members of Congress faced constituents telling emotional stories of how they believe the AHCA would impact their lives. A New Jersey representative, whose compromise gave the AHCA new life, faced angry voters at a town hall last week. A member of Congress from Iowa, who argued men should not have to pay for maternity care and recently stormed out of an interview, faced booing crowds.
Among the 17 House Republicans who held town halls, they held a total of 36 public meetings. Rep. Roger Marshall of Kansas, an obstetrician, held six, which was the most, while nine GOP members held only one town hall. 
In contrast, nearly twice as many Democratic House members held town halls during the recess. 25 House Democrats — about 13% of the Democratic caucus — held 43 town halls. Democrats, of course, were entirely uniform in their opposition to the AHCA. They sang "na-na-na-naaaa, na-na-na-naaaa, hey-hey-hey, goodbye!" in the House chamber as Republicans voted to pass their health care bill, nodding to the upcoming 2018 midterm election.
The Senate, for its part, was not in recess, but five Democratic members of the upper chamber managed to hold eight town halls from May 5 to May 15. No Republicans did.