11 times Trump complained about leaking classified information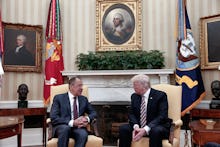 On Monday, the Washington Post released a damning new report alleging that President Donald Trump released highly classified information in his meeting with Russian Foreign Minister Sergey Lavrov and Russian Ambassador Sergey Kislyak.  
According to the Post, the information Trump gave to the Russian officials jeopardizes a crucial source in the fight against ISIS that the U.S. obtained from a key intelligence ally. "If that partner learned we'd given this to Russia without their knowledge or asking first that is a blow to that relationship," a U.S. official reportedly told the Post.
The release of classified information to the Russians comes at an awkward time for Trump as his administration continues to face backlash over his decision to fire FBI Director James Comey amid the Bureau's investigation into ties between Russia and Trump's 2016 campaign.
But it's also awkward for another reason. Trump has made his opinions on leaking classified information very clear over the past year.
For instance, during the Hillary Clinton email scandal, when the former secretary of state received emails about classified information on her private email server he deemed her "not fit" for the presidency and called for charges.
Or when reporters started getting leaks about the Trump administration's contacts with Russia, Trump tried to change the narrative by claiming that the "real scandal" was the release of classified information to the New York Times and other outlets.
So how should America respond to a president that claims to care deeply about the unauthorized release of classified information, who may himself be releasing classified information to a foreign country accused of meddling in our election? For that answer we'll have to turn to the man in charge of the only branch of government capable of sanctioning Trump.