UploadVR sexual harassment lawsuit is an endless litany of horrendous male behavior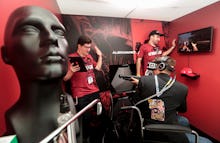 Virtual reality startup UploadVR is being sued for sexual harassment and gender discrimination by former employee Elizabeth Scott, TechCrunch reported. The court document reveals a number of horrifying allegations.
"The atmosphere and work environment at UploadVR was marked by rampant sexual behavior and focus, creating an unbearable environment for Plaintiff and other female employees," the court document states.
Among the many allegations, which include retaliation, a failure to prevent harassment, negligent hiring and unequal pay, Scott describes a "boys' club" in which company co-founders Will Mason and Taylor Freeman openly discussed sex in the workplace.
"For example, male employees stated how they were sexually aroused by female employees and how it was hard to concentrate and be productive when all they could think about was having sex with them," the court document states, adding that the expansion manager of UploadVR would "frequently comment about how attractive one of the female employees was" in Scott's presence and would discuss how he "had a boner" and insinuate that he needed to go masturbate in the bathroom.
According to the lawsuit, the sex life of UploadVR employee Greg Gopman — notorious for his cruel rant about homeless people in San Francisco — was often discussed. Male employees talked about how Gopman "has had sex with over 1,000 people."
Among the allegations also includes emails circulated by the co-founders regarding a fundraising trip to Asia describing their attempts to get "Samurai Girls" or "submissive, Asian women" for the trip. Additionally, a top executive based in Thailand emailed the company the results to his STD test.
The lawsuit also states that the company had a "kink room" with a bed where male employees would have sex. "Often, underwear and condom wrappers would be found in the room."
The lawsuit also states that the company had a "kink room" with a bed where male employees would have sex. "Often, underwear and condom wrappers would be found in the room."
There are a number of other damning allegations in the court document, which also include situations like purposefully excluding women from professional opportunities like emails and meetings and requiring female employees to do "womanly tasks" like cleaning up the condoms and underwear discarded during parties.
Mason and Freeman provided a comment to TechCrunch on the allegations filed against them (emphasis ours):
We cannot comment directly on any pending litigation. What we want to express is that our employees are our greatest asset and the sole reason for the success of this company. We are committed to creating a positive community in VR/AR as well as within our company culture and will work to further develop that mission in the future. We are confident that the true nature of how we treat our employees and how we operate as leaders will shine through this unfortunate situation and confirm that these allegations are entirely without merit.
It is worth noting that the statement does not mention a commitment to a workplace free of sexual harassment or gender discrimination. It is also a disservice to the women at UploadVR for the claims to be dismissed as "entirely without merit" prior to a formal investigation.
"Are we going to let VR be poisoned with the same inequality as the rest of the industry?"
Jodi Schiller, Founder of ARVR marketing company New Reality Arts and an AR/VR Women advocate, told Mic how important it is for women to speak up and support one another amid discriminatory work cultures.
"In many bad situations in tech, women are picked off one by one at their jobs, and the other women don't intervene either because maybe they are too scared themselves to comment because they may lose their jobs, or even, it seems, they may fear becoming 'unpopular' with the boys," Schiller said.
"In this situation it is my deepest hope that men and women can come forward, believe in Elizabeth and what she's saying, and stand with her," she added.
"As an industry, we have to decide: Are we going to let this tech be poisoned with the same inequality as the rest of the industry?" Schiller said. "Or can we, this time, right now, say no? We demand a future where women and men are equally comfortable creating and distributing augmented and virtual reality experiences and we are willing to fight for it, not just pay it lip service."
The tech industry defends Mason and Freeman
Helen Situ, a virtual reality evangelist at NextVR, wrote a Medium post in response to the UploadVR lawsuit, discussing the dangers of automatically dismissing women's allegations — which many people in the tech community did after news of the lawsuit broke.
"We say ... 'this hasn't happened to me so it can't be true,'" Situ wrote. "That is insane."
Robert Scoble, a prominent technology evangelist, was among the men who cast doubt on the allegations based on his personal experiences with the co-founders. The allegations "don't match the personal characters" of Mason and Freeman, he said. "While I've been at some parties Upload has hosted ... I never witnessed this kind of behavior."
"Leadership has an unhealthy appetite for power"
A March 2017 UploadVR Glassdoor review from a self-described former employee titled "Stay far away!" echoes many of the claims in the lawsuit, identifying a hostile work culture coming from the top. "Leadership is basically nonexistent," it reads, adding that employees who don't want to party feel ostracized.
"Founders have no idea how to manage, encourage or appreciate their employees," the review states. "The office culture is less than professional — it's not an conducive environment to work effectively. Staff is encouraged to participate in partying activities, and if not they're marked as the 'outsiders.' Leadership has an unhealthy appetite for power, and has on occasion [demeaned] employees in an incredibly inappropriate way."
UploadVR is just the latest tech company to face legal challenges for allegedly fostering a hostile work environment. Augmented-reality startup Magic Leap was hit with a sex discrimination and retaliation lawsuit this year, and recently settled. Uber also made headlines this year after a former employee publicly called out the company for issues of systemic sexism. The investigation is ongoing.
Oct. 8, 2018, 10:32 a.m.: This article has been updated.