Russia denies report that Trump revealed classified intel to officials in series of boasts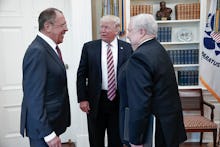 On Tuesday, Maria Zakharova, a spokeswoman for the Russian foreign ministry, has denied the Washington Post's explosive report on President Donald Trump's White House meeting with Russian Foreign Minister Sergei Lavrov and Russian Ambassador to the United States Sergey Kislyak, calling the claim that Trump divulged classified intelligence to the high-ranking officials "yet another fake," the Associated Press reported.
According to the Post, U.S. officials with knowledge of Trump's May 10 meeting with Kislyak and Lavrov say that Trump disclosed sensitive information that jeopardized a vital source of intelligence in the fight against ISIS.
"I get great intel. I have people brief me on great intel every day," Trump is said to have boasted while revealing the classified intelligence, which the New York Times reported comes from "a Middle Eastern ally that closely guards its own secrets."
Though the Russian foreign ministry and some of Trump's top aides have pushed back against the reports on Trump's meeting with the Russian officials, on Tuesday morning, the president appeared to contradict those denials, tweeting that he has the absolute right to give Russia the facts on terrorism and airline and flight safety.
Citing the guidance of officials, the Post withheld the specifics of Trump's alleged disclosure in their report so as not to further jeopardize the U.S. and its allies' intelligence-gathering efforts against the Islamic State. 
An anonymous U.S. official told BuzzFeed News that the alleged disclosures were "far worse than what has already been reported."