Donald Trump admits he gave Russia information about "terrorism and airline flight safety"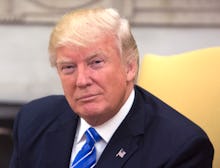 In a series of tweets Tuesday morning, President Donald Trump appeared to confirm the Washington Post's bombshell Monday report that he disclosed classified information to the Russians during a meeting on May 10 in the Oval Office.
"As President I wanted to share with Russia (at an openly scheduled W.H. meeting) which I have the absolute right to do, facts pertaining to terrorism and airline flight safety," Trump tweeted. "Humanitarian reasons, plus I want Russia to greatly step up their fight against ISIS & terrorism."
A White House spokesman denied that Trump's tweet confirms the Washington Post's story, according to CBS' Mark Knoller.
However Trump's tweets do seem to contradict the Monday night denial from National Security Adviser H.R. McMaster.
"I was in the room — it didn't happen," McMaster said in a tersely delivered Monday night statement outside the West Wing, after the Post report. "At no time — at no time — were intelligence sources or methods discussed, and the president did not disclose any military operations that were not already publicly known."
It's the second time in a week Trump has embarrassed his own staff by contradicting their statements. Last week, Trump gave a completely different story than his communications staff told about why he fired now-former FBI Director James Comey.
May 16, 2017 8:40 a.m.: This article has been updated.