Best places to live: These 10 beautiful countries are the most affordable in the world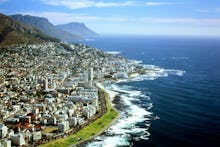 Want to live abroad? It pays to be picky. For example, Bermuda and the Bahamas are among the most expensive nations in the world, according to a recent analysis from GoBankingRates, but if you pop down to Belize, you can enjoy rent that's almost 90% cheaper than the rents in New York City, with picturesque beaches and word-class snorkeling to boot. 
To arrive at their affordable countries list, the personal finance site used available pricing figures from the crowdsourced data site Numbeo to estimate costs of living and which nations were most wallet-friendly. GoBankingRates looked at purchasing power and the cost of rent, groceries and local goods and services. Then it compared prices to those in New York City, which — to be fair — is significantly more expensive than your typical United States city. 
In other words, these countries might not feel as cheap if you moved there from Mississippi or South Dakota, where the cost of living is much lower and a dollar stretches farther. But even so, you'll likely be getting a solid bang for your buck — like $4 meals in Belize, for instance.
Without further ado, here are the ten cheapest countries on the GoBankingRates list. And if you're really serious about moving abroad? Check out Mic's guide to traveling and working overseas.
10. Macedonia 
• Rent: 94% cheaper
• Groceries: 75% cheaper
• Local goods and services: 69% cheaper
If you want to live in Europe, Macedonia is the most cost-effective way to go, with far fewer tourists and lots of natural beauty to enjoy. Travel writers praise the eclectic cuisine and nightlife in Skopje, Macedonia's capital, while likening nearby Ohrid to the lakeside towns in the Swiss Alps. 
9. South Africa 
• Rent: 84% cheaper
• Groceries: 64% cheaper
• Local goods and services: 57% cheaper
The capital city of Johannesburg has undergone an extensive revitalization over the last several years, and people rave about the hipster neighborhood of Maboneng. You also can't beat the weather: Cities like Cape Town have a sunny, comfortable climate year-round.
8. Tunisia 
• Rent: 94% cheaper
• Groceries: 72% cheaper
• Local goods and services: 71% cheaper 
Tunisia lines the Mediterranean Sea, and is famous for its beaches and seafood, although the country has gotten more dangerous in recent years. It may be hard to find a job, although expats report that there are usually teaching opportunities for English speakers. 
7. Pakistan 
• Rent: 95% cheaper
• Groceries: 75% cheaper
• Local goods and services: 73% cheaper
Pakistan has some of the most beautiful natural attractions in the world thanks to its proximity to the Himalayan mountain range, although, like Tunisia, there can be travel risks. Networking and word-of-mouth are reportedly crucial to getting a job, although there are a large number of multinationals that also employ expats in the country, including IBM, Procter & Gamble and Unilever.  
6. Egypt 
• Rent: 95% cheaper
• Groceries: 81% cheaper
• Local goods and services: 78% cheaper
Egypt is undergoing an archaeological renaissance, and locals hope that will help revive the tourism which has declined since the 2013 coup. It can be tough to find a job, but many expats reportedly work as teachers at the American and European schools in Cairo.   
5. Mexico 
• Rent: 92% cheaper
• Groceries: 72% cheaper
• Local goods and services: 70% cheaper
Its proximity to the U.S. makes Mexico a popular hub for American expats seeking a warm climate and low cost of living. It hosts more than a million expats from all over, according to International Living. Along with its fabulous beaches, you can also explore everything from tiny, off-the-grid towns to cosmopolitan cities and neighborhoods in places like San Miguel de Allende and Puerto Vallarta — where you can generally get by with English. 
4. Libya 
• Rent: 81% cheaper
• Groceries: 53% cheaper
• Local goods and services: 54% cheaper
Alas, Libya is not a safe place to live right now for expats, due to the civil war, although the city of Tripoli still has a small expat community. The U.S. Department of State warns that Americans should steer clear. If your heart is set on living in Africa, you might consider South Africa — written up above — or beautiful Zambia, which ranks at #18 on the GoBankingRates affordability list, is among the most stable nations on the continent, and offers many work and volunteer opportunities, including at a chimpanzee refuge.
3. Belize 
• Rent: 89% cheaper
• Groceries: 51% cheaper
• Local goods and services: 44% cheaper
Belize is an outdoor lover's paradise with some of the best scuba diving, snorkeling and caving on the planet. Expats have found jobs running yoga studios, hair salons, coffee shops and organic farms, International Living reports.
2. Saudi Arabia 
• Rent: 86% cheaper
• Groceries: 59% cheaper
• Local goods and services: 52% cheaper
Saudi Arabia has a reputation as being a tricky place for expats to live, particularly if you are a woman, but at least one expat writes that this impression is overstated, particularly in international-friendly cities like Jeddah. English-speaking teachers are also often in demand, and can fetch extremely generous salaries.
1. India
• Rent: 93% cheaper
• Groceries: 75% cheaper
• Local goods and services: 75% cheaper
From the canals of Kerala to the beaches in Goa to the majestic Taj Mahal, India is a country of endless adventure and nuance. Ranked one of the top 10 places to be an expat in a survey by HSBC, it's a standout both for amazing travel opportunities — you can even stay in Gandhi's ashram for $20 a night — and as a good place to raise kids thanks to the low cost of childcare. Those seeking a meaningful experience might also consider finding a fellowship that would cover your cost of living and working at an ashram for about a year.
Rates of sexual assault in India remain a concern, though the government is working to curb violence against women.
Sign up for The Payoff — your weekly crash course on how to live your best financial life. Additionally, for all your burning money questions, check out Mic's credit, savings, career, investing and health care hubs for more information — that pays off.