Four fraternity brothers plead guilty in hazing death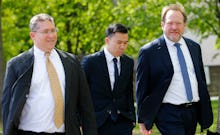 Four former Baruch College students charged in the 2013 hazing death of a fraternity pledge brother pleaded guilty to reduced charges on Monday.
According to the New York Times, the men — Kenny Kwan, 28; Charles Lai, 26; Raymond Lam, 23; and Sheldon Wong, 24 — were initially charged with third-degree murder but cut a deal with prosecutors that reduced their charges to voluntary manslaughter and hindering apprehension.
The men who pleaded guilty were just four of the 37 individuals charged with crimes related to the death of 18-year-old Chun Hsien Deng, who died during a hazing ritual as he sought to join Pi Delta Psi, an Asian-American fraternity.
In the winter of 2013, brothers and potential new members of Pi Delta Psi traveled to the Poconos in upstate New York for a weekend getaway in a rental home, the Times reported. Once there, pledges were forced to put on blindfolds and traverse a frozen yard. 
Deng — who, unlike the other pledges, became "defiant" during the process — was weighted down by a backpack full of sand and severely beaten by brothers as he attempted to run through a gauntlet. Once the brothers realized he'd fallen unconscious, they carried him into the house and delayed seeking help for about an hour. One fraternity member later told investigators the group was concerned about the cost of calling an ambulance, according to the Times.
Eventually, three of the brothers drove Deng to a hospital, where he was diagnosed with severe head trauma and placed on life support. A day later, he was dead.
The four men who pleaded guilty Monday will be sentenced Dec. 4. Todd Greenberg, the lawyer for Lam, said the men "were always willing to accept responsibility, and the legal battle was over what the level of responsibility was."
"I hope the judge is going to understand that nobody intended for this to happen and sentence accordingly," he added.
The Baruch College incident is distressingly similar to another instance of fraternity hazing turned deadly that occurred at Penn State University in February, in which 19-year-old sophomore Timothy Piazza — a potential new member of the school's Beta Theta Pi fraternity — collapsed down a flight of stairs after consuming large amounts of alcohol during a fraternity pledge event.
Both situations forced the schools in question to crack down on a culture of binge drinking that remains pervasive among Greek institutions.
In response to Deng's death, Pi Delta Psi lost its charter at Baruch, and the school also issued a moratorium on pledge events for Greek organizations on campus until the summer of 2018, the Times reported.