'Tracy Morgan: Staying Alive': The comedian addresses accident in new Netflix special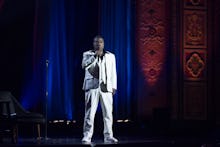 In his new Netflix stand-up special, comedian Tracy Morgan gets real about the 2014 accident that almost killed him. 
Tracy Morgan: Staying Alive dropped on the streaming service on Tuesday. During his stand-up, Morgan doesn't mince words: "We can get right to it. Everybody knows I got hit by the Walmart truck," he says.
The comedian says that it could have been worse and is thankful it was a Walmart truck and not something else. "I could've been injured by a Bob's Discount Furniture truck, driven by some dude name Rico," Morgan jokes.
The 30 Rock actor finds the humor in the accident that put him into a coma:  "When I was in my wheelchair, I still shopped at Walmart. You still can't beat their prices," he quips. He also adds that following his settlement with the company, all their prices went up a penny. 
In June 2014, Morgan got into a collision with a Walmart tractor trailer. The incident left the comedian with a brain injury and broken bones. It also killed James McNair, a member of Morgan's entourage. Several other passengers were left in critical condition. 
The comedian and Walmart settled out of court and Morgan focused on his recovery. In October 2015, Morgan made an emotional return to Saturday Night Live as host. 
"I was in a terrible car accident a year ago. It was awful. But also, it showed me how much love and support I have in this world," he said in his monologue. 
Tracy Morgan: Staying Alive is now streaming on Netflix. 
Mic has ongoing Netflix coverage. Please follow our main Netflix hub here.