Rock-Type 'Pokémon Go' Update: "Adventure Week" event could surface Aerodactyl, other fossil Pokémon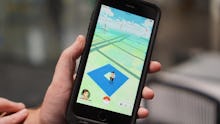 Pokémon Go events have become more common than Pidgeys in the city. Following off the recent Worldwide Bloom grass event, Pokémon Go will now focus on Pokémon made of the earth. That's right, if you're like Brock and are a fervent fan of rock types, this is the Pokémon Go update you've been waiting for.
Rock-Type Pokémon Go Update: What to expect from the "Adventure Week" event
According to the Pokémon Go website, the event will be known as "Adventure Week." It starts on May 18 at 4 p.m. Eastern and ends on May 25 at 4 p.m. Eastern. The teaser prominently features the prehistoric Pokémon Aerodactyl. Just like with Bulbasaur during the last event, you can comfortably bet that we'll see an uptick in Aerodactyl appearances during the event period.
But it isn't just Aerodactyl that's a rare rock type. The fossil Pokémon Omanyte and Kabuto are both rock types and hard to find, depending on where you live. These too could become prevalent during rock week.
Then there are Pokémon Go's inclusion of Gen 2 Pokémon, including additions like Sudowoodo and Corsola. Unfortunately, Steelix doesn't make the cut, but we'll happily take a Magcargo instead.
Some past Pokémon Go events have led to new additions to the game. Specifically, Water Festival event brought the introduction of shinies, a staple of the actual games, to the PoGo experience. Whether this event will bring anything noteworthy to Pokémon Go or not has yet to be seen.
More Pokémon Go news and coverage
If you're just booting up your Pokémon Go account, check out our first impressions of the Gen 2 update. You'll also want to learn more about the Unown and new evolutionary items like the Sun Stone and more. If you're looking for a list of evolutions that weren't initially revealed by Niantic, this article is your guide. 
If you're more interested in the main games, here's the latest on a possible Pokémon title on the Nintendo Switch: Pokémon Stars. And if you're itching to learn about the other mobile Nintendo games, check out our coverage of Fire Emblem Heroes and Super Mario Run.