'Injustice 2' Chapter List: How many chapters are in the game's campaign?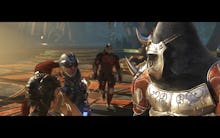 Although the initial draw of Injustice 2 will be making badass versions of all the DC superheroes you know and love — and some you tolerate, like Green Arrow — duke it out, you'll also be pleasantly surprised to know there's a story mode in the game.
If you're wondering how long you can expect to spend on the Injustice 2 campaign, you're in luck — we've got the scoop right here.
How many chapters are in Injustice 2?
According to Twinfinite, Injustice 2's campaign has 12 chapters in total, with each focusing on a few different characters. You'll be able to swap characters between fights or just play through the whole thing as one, if you're, say, good as Firestorm but terrible with Blue Beetle. Additionally, the final chapter will require you to pick between Superman or Batman, so really it's 13 chapters if you want to see both sides of that ending. Depending on how easily you grasp Injustice's mechanics, it ought to take you about three to four hours to finish the campaign.
Here's the chapter list in full and the characters you'll choose between while playing them:
1. Godfall – Batman
You'll also have the option to play in the Multiverse — a pool of challenges that changes over time. Additionally, you'll have to level up your fighters if you want to take them online and there are currently 28 in all. It's a fighting game, so you can expect to be able to dig deep if you're a fan.
More fighting game news and updates
While you wait for more Injustice 2 character reveals, read more fighting game news on Mic. Find out more about Super Smash Bros. for Switch, the Injustice 2 roster, the Tekken 7 console release date, what to expect from Marvel vs. Capcom: Infinite and the Evo 2017 lineup.