Another leak. Another Donald Trump and Russia story. Still no special prosecutor.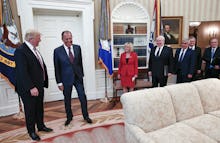 "I wish I knew." That was Sen. Dick Durbin's (D-Ill.) response to a question about what Democrats in Congress can do if President Donald Trump is leaking classified information. The Washington Post broke the news on Monday night that, in a meeting with Russia's foreign minister, Trump let loose some delicately obtained intelligence on the Islamic State. Despite the explosiveness of that charge, it will likely do little to change the GOP's lack of appetite for a full-blown independent investigation into the president's ties to Russia.
Trump's national security adviser quickly denied the story, saying "at no time ... were intelligence sources or methods discussed, and the president did not disclose any military operations that were not already publicly known." But stories about the leak never said Trump talked specifics about the methods, just that he revealed classified information to top Russian officials without clearing it by the source, reportedly a U.S. ally. (Russia denied Trump revealed any classified information.)
Trump tweeted a partial admission to the story on Tuesday morning. "I wanted to share with Russia ... facts pertaining to airline safety and terrorism," Trump said. This all hinges on the fact Trump is president. If almost any other government official revealed classified information, they could be fired or charged for revealing information. But if the president reveals "code-word" clearance information — the top level of classification — it is immediately declassified and the president will not face any legal repercussions.
On that note: Here are 11 times Trump has complained about people leaking classified information.
The report threw the White House into another day of chaos. But it is not likely to change how the allegations of ties between Trump and Russia are being investigated. Sen. Bob Corker (R-Tenn.) said the White House is in a "downward spiral" with day after day of crisis. Sen. Susan Collins (R-Maine) asked, "Can we have a crisis-free day? That's all I'm asking." House Speaker Paul Ryan's (R-Wisc.) spokesperson said the House speaker "has no way to know what was said" and will wait for a briefing from the White House.
Overall, the vast majority of Republicans stayed quiet about the latest leak story. There were no growing calls for a special prosecutor or other independent inquiry into Trump and Russia. Sen. Jim Risch (R-Idaho) even came to Trump's defense: "It's no longer classified the minute he utters it." As Sen. John McCain (R-Ariz.), who has called for an independent investigation into Trump and Russia, said, "The president has the right to do that."
The tweet of the night: BuzzFeed's Adrian Carrasquillo noted that he heard yelling coming from a White House room where Steve Bannon, Sean Spicer and Sarah Huckabee Sanders were meeting.
On the right, conservative media ignored or altered the Post scoop. Fox News continued talking about the president honoring police as the story broke, while Breitbart claimed "deep state" sources leaked the story to the Post to "smear President Trump."
The takeaway: From a Washington Post reporter who broke the story: "The White House is playing word games here ... to try and blunt the impact of this story."
This is Mic's daily read on Donald Trump's America. Welcome to the political newsletter that thinks Susan Collins said it right. 
What we're watching
Today: President Donald Trump reportedly revealed classified information to the Russians.
More: The White House denies Trump revealed specifics, not that the overall story isn't true. The president sort of admitted the latter on Tuesday morning.
Even more: Health care is beginning its slow movement through the Senate.
Trump's agenda today: Meeting with Turkish President Recep Tayyip Erdogan at the White House. Speaking with King Abdullah II of Jordan by phone. Meeting with Secretary of Health and Human Services Tom Price and Director of the Office of Management and Budget Mick Mulvaney.
Health care and the Senate
Sens. Collins and Bill Cassidy (R-La.) are attempting to lead a bipartisan group of senators forward on health care reform, separate from a group put together by Senate Republican leaders. The bipartisan approach is far from a sure thing. Collins and Cassidy held the first gathering of Democrats and Republicans on Monday night. The unusually secretive meeting attracted a few Democratic senators who preferred not to be named, The Hill reported. The early version of the bipartisan proposal would let many states keep core elements of the Affordable Care Act.
Simultaneously, a group of 13 Republican senators has met four times and is secretly crafting the Senate version of the American Health Care Act. Democrats are criticizing Republicans for meeting in secret, while the GOP argues they want to present a fully baked plan instead of dragging it through public committee hearings. The group is meeting twice a week and has already considered pegging tax credits for health care to income instead of age, a major change from the House version of the legislation.
How well Democrats and Trump get along will determine whether the bipartisan or GOP-only strategies advance. Senate Minority Leader Chuck Schumer (D-N.Y.) would be loathe to give Trump a win by passing a bipartisan health care bill. With the president's low approval ratings and continued chaotic, Russian-driven problems, Democrats may stonewall reform instead of work with Republicans.
Turkey's president at the White House
One of several authoritarian leaders Trump has praised will appear at the White House on Tuesday. Turkish President Recep Tayyip Erdogan comes to Washington shortly after narrowly winning a referendum that gave his office greater executive powers. (Watch this New York Times story on how many in Turkey live in fear of Erdogan following the country's decline from a democracy to an authoritarian state.) The two presidents are likely to focus on wonky regional issues, including the U.S. arming Kurdish fighters opposed to Erdogan and Turkey's relationship with Russia. But those topics and others are key to keeping Turkey engaged as a key U.S. ally in the fight against the Islamic State.
News and insight you cannot miss:
•  Trump's aide revealed Secretary of Defense Jim Mattis' cell phone number — by writing it on a sticky note that was captured by a photographer. The number still works. (Mic)
•  Someone projected "Pay Trump Bribes Here" on the entrance to the president's Washington hotel. (Twitter)
•  The president has advanced an order that would offer $9 billion to health care organizations internationally — provided they do not offer abortion services. (Mic)
•  After the case was denied by the Supreme Court, North Carolina's voter ID law — which federal judges said targeted black voters — will remain dead. (Mic)
•  It looks like the New York State Assembly will vote in support of single-payer health care on Tuesday. (Mic)