Tim Allen responds to 'Last Man Standing' cancellation with tweet about being "blindsided"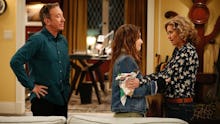 After six seasons, ABC canceled the Tim Allen sitcom Last Man Standing. The news was announced on May 10, and Allen responded to the cancellation Tuesday in a post about being "blindsided."
Fans of the series were upset following the news of the cancellation — so upset that they have started a Change.org petition to try and save the show. The petition was put together by a user named Deputy Matt who claims that the show was dropped because of its conservative values. 
"Last Man Standing stands out in the sea of network television sitcoms," the petition reads. "It is a show that appeals to a broad swath of Americans who find very few shows that extol the virtues with which they can identify; namely conservative values."
The show's creator, Jack Burditt, retweeted a tweet from The Adam Carolla Show that shared the petition. Burditt also tweeted that he was surprised about the cancellation:
Nancy Travis, who portrayed Vanessa Baxter, retweeted multiple posts about the petition. Amanda Fuller, who played Kristin Baxter on the series, shared the petition on Twitter asking for fans to sign it:
During its sixth season, Last Man Standing averaged over 8 million viewers. 
Mic has ongoing TV coverage. Please follow our main TV hub here.