'Injustice 2' Guide: How to block an attack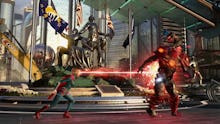 Blocking is pretty important in fighting games because otherwise you'll just get beat up. Blocking is imperative to success in Injustice 2, and it might not come as naturally as you think.
Let's get blocking in Injustice 2
According to Heavy, to block you simply hold back on the analog stick that you used to move. For example, if your enemy is on your right, you'll tilt the analog stick left.
This might be odd for some players, especially if you're not used to this specific combat system. If you're accustomed to games like Mortal Kombat or Street Fighter, it'll take some getting used to. Spend some time in story mode before you take on any human players, just to give yourself some time to really acclimate to this unique control structure.
More gaming news and updates
Check out the latest from Mic, including our list of video games that made fun of their players, a personal essay about dealing with anxiety through Breath of the Wild, a look at the racist and sexist experiences in esports and a plea for better character customization options for black characters.