Instagram Update: New Instagram face filters are a lot like Snapchat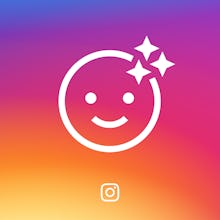 Instagram is rolling out an update Tuesday in which the Facebook-owned photo-sharing platform will introduce face filters that can be used to turn selfies into something more. Sound familiar? That's because it's a feature Snapchat is known for — and Instagram is, yet again, taking an idea from its rival.
"Whether you're sitting on the couch at home or you're out and about, you can use face filters to express yourself and have playful conversations with friends," Instagram wrote in a post. "From math equations swirling around your head to furry koala ears that move and twitch, you can transform into a variety of characters that make you smile or laugh."
Eight face filters will initially be made available. To use, simply open your Instagram app, open the camera and select the face icon in the bottom right corner. A series of filters will pop up at the bottom; tapping on a filter lets users try it on. When you've finished making your content, you can share it through Instagram Direct or add it to your story.
Like Snapchat, the filters can be applied to both photos and videos, and some work with friends. The filters also work with Boomerang, a standalone video app released by Instagram in 2015. Now integrated within Instagram, Boomerang takes bursts of pictures and stitches them together.
In September 2015, Snapchat introduced real-time special effects and sounds with the debut of lenses. To use, open the app and go to the camera screen. Here, just tap the screen to trigger an array of lenses — what Instagram is calling face filters — to pop up. You can pick between lenses that modify your face, modify your face and voice, and even ones that can be used with friends.
Instagram's latest copycat move isn't the first time the app took an idea from Snapchat. The platform rolled out Instagram Stories, where photos and videos disappear after 24 hours, in August — nearly three years after Snapchat introduced Snapchat Stories, where photos and videos also disappear after 24 hours, in October 2013.