5 times Trump immediately contradicted his own White House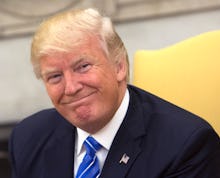 The timeline of events within Donald Trump's White House on Monday was dizzying.
After the Washington Post blasted out a scoop on the president sharing "highly classified information" with Russian officials during a meeting came reports of a scramble among Trump's communications officials.
"WH comms staffers just put the TVs on super loud after we could hear yelling coming from room w/ Bannon, Spicer, Sanders," BuzzFeed White House correspondent Adrian Carrasquillo tweeted at about 7:30 p.m. Monday evening.
A few hours later, the official party line had been solidified.
"The story that came out tonight as reported is false," H.R. McMaster, Trump's national security adviser, said in a brief statement released Monday night. 
"At no time were intelligence sources or methods discussed," he said. "The president did not disclose any military operations that were not already publicly known... I was in the room. It didn't happen."
Then came the tweet.
On Tuesday morning, Trump admitted on Twitter that he had, in fact, shared some information with Russia, as was his "absolute right" as president — apparently confirming the Post's report and summarily setting fire to his team's carefully crafted denial.
It's hardly the first time Trump has deviated from his communications team's statement to offer up his own explanation for a key event. In fact, Trump has a well-documented history of going rogue on the record.
Below are four other times the president's team has offered up one version of events only for #45 to immediately contradict it.
The reason for FBI director James Comey's firing
Less than a week before the mixed messaging on what Trump had disclosed to Russian diplomats, he stunned the nation by contradicting his White House's given explanation for the firing of FBI director James Comey. 
In the wake of Comey's sacking, Vice President Mike Pence told reporters that Trump made the decision based on the recommendation of Deputy Attorney General Rod Rosenstein.
But just one day later, Trump told NBC's Lester Holt in an interview that his decision on Comey had been made long before he received Rosenstein's memo.
"I was going to fire him regardless of recommendation," Trump told Holt flatly. 
Australian health care is better than American health care
Just one day after Republicans were able to successfully push their health care bill, the American Health Care Act, through the House of Representatives, Trump told Australian Prime Minister Malcolm Turnbull that Australia's health care was better than the health care system in the U.S.
"It's going to be fantastic health care," the president said, referring to the AHCA. "I shouldn't say this to our great gentleman and my friend from Australia, because you have better health care than we do."
In an effort to explain the president's words, White House deputy press secretary Sarah Huckabee Sanders offered during a briefing that Trump had merely been attempting to flatter the prime minister.
But Trump, unwilling to accept the out that had been provided for him, later doubled down on his comments on Twitter.
"Of course the Australians have better healthcare than we do — everybody does," he wrote. "ObamaCare is dead! But our healthcare will soon be great."
A two-state solution in Israel
"I'm looking at two-state and one-state (formulations)," Trump said of the Israel-Palestine conflict during a February press conference with Israeli Prime Minister Benjamin Netanyahu. "I'm very happy with the one that both parties like. I can live with either one."
The statement, of course, contradicts decades of U.S. support for a two-state solution, something that United Nations Ambassador Nikki Haley was later forced to clarify on the record.
"We absolutely support a two-state solution," Haley said later that week in remarks delivered at the UN.
Health care for everyone, "guaranteed"
In an interview with CBS's Face the Nation that aired as he approached his 100th day in office, an exuberant Trump promised a health care bill to replace the Affordable Care Act that would "guarantee" insurance coverage for anyone with pre-existing medical conditions.
The only problem? The AHCA — which Republicans eventually managed to push through the House of Representatives — had already been drafted, and it promised no such thing.
Nevertheless, Trump continued to tout the promise of the bill.
"Pre-existing conditions are in the bill," he falsely stated. "And I mandate it. I said, 'Has to be.'"
An amendment added to the bill later by Rep. Tom MacArthur granted states the right to do away with certain protections enshrined by the ACA that would, in essence, allow insurers to charge more for those with pre-existing conditions than they would for healthy people.