This Aboriginal activist is calling Chanel's new $1325 boomerang "so wrong it is almost absurd"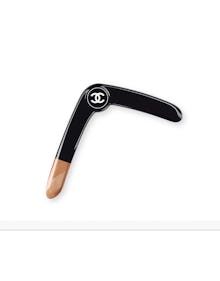 A cool $1325 can bag you Chanel's new spring-summer 2017 pre-collection wood & resin black boomerang. Absurd? Perhaps. Unthinkable? Hardly. Offensive? To some.
The high-priced luxury good (which Chanel has been selling in various iterations since 2004) first made the rounds on Monday, after makeup artist Jeffree Star Instagrammed his affection for the new product.
"Having so much fun with my new #Chanel boomerang," he wrote without any indication that the post was sponsored.
Over 160,000 people 'liked' the post with over 5,000 comments, many of which called out the brand for appropriating from indigenous Australian culture.
"As someone who lives in Australia and has been taught about discrimination toward Aboriginals, this is ethically wrong," wrote @actually.james.
"The boomerang is a piece of Australian Aboriginal culture. No other place has it," wrote Instagram user @amberjfaull. "This is the most blatant cultural appropriation."
"This is on par with appropriating a Native American headdress," wrote @abbeyceleste. "Obviously not intentionally on your part but this is a bad move by Chanel."
Aboriginal activist Nayuka Gorrie too was having none of it, firing out several tweets denouncing the new product.
In a follow-up interview with the Guardian Australia, Gorrie described Chanel's high-end take on the boomerang "so wrong it is almost absurd."
"Having a luxury brand swoop in, appropriate, sell our technologies and profit from our cultures for an absurd amount of money is ridiculous and hurtful," she explained. "If Chanel truly want to respect Aboriginal cultures, the first place they should start is discontinue this product and issue an apology. Perhaps the next step would be supporting existing black designers."
Chanel was quick to release what the New York Times' Vanessa Friedman called a "quasi-apologetic statement," saying: "Chanel is extremely committed to respecting all cultures and deeply regrets that some may have felt offended."
But as many on Instagram noted, the cavalcade of discourse surrounding what is and what isn't cultural appropriation continues to expand with no finite conclusion. "I can't keep up anymore with cultural appropriation," wrote one commenter on Jeffree Star's Instagram. "I don't get how this is offensive and I am Australian... As a child I owned a plastic boomerang and we use wooden ones for art in the school I work at, should I suggest to them that [they] are being inappropriate?" asked another. 
Clearly, a nerve has been struck. But the question of appropriation versus appreciation continues to loom heavily in fashion, an industry so heavily relied upon as a purveyor of culture, yet one increasingly scrutinized for the particularity of how it goes about doing this.