'Injustice 2' Clash: How to turn the battle in your favor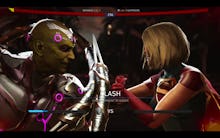 In the first Injustice game, there was a mechanic called clash that can help a losing player turn the tide of battle. This mechanic carried over to Injustice 2. Although it's called a clash, it's far more like betting.
Injustice 2 Clash: How it works
You can only initiate a clash when you're down to your second bar of health and when your enemy is in the middle of beating you up. 
If you press forward, and R2 or RT, you'll be prompted to bet a specific amount of your special attack gauge. 
The rule is pretty simple: Whoever bets more wins the fight. The rewards for winning depends on whether you were the attacker or the defender. According to Twinfinite, if you're the defender — the one who initiated the clash — you'll regain health for winning the clash. If you're the attacker, you'll do more damage to your enemy.
More gaming news and updates
Check out the latest from Mic, including our list of video games that made fun of their players, a personal essay about dealing with anxiety through Breath of the Wild, a look at the racist and sexist experiences in esports and a plea for better character customization options for black characters.