31 'Twin Peaks' cast members returning for the Showtime reboot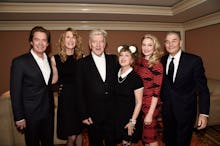 Start brewing that damn fine cup of coffee — the Twin Peaks revival is set to air Sunday night. Despite bumps along the show development and production road, and the 26-year hiatus between the last season and this one, the series is officially back. However, it may not be exactly what fans remember. 
One thing that creator David Lynch has divulged — and he hasn't divulged much — is that the follow-up film to the original series, Twin Peaks: Fire Walk With Me, is key to understanding this new season. While that may be somewhat disconcerting to fans of the original, because the film was such a departure, they can still take solace in the many familiar faces they'll see in the reboot. 
These are the 31 original actors who are slated to return in Showtime's Twin Peaks. 
1. Kyle Maclachlan as Agent Dale Cooper
What would Twin Peaks be without everyone's favorite tape-recording Agent Cooper? Obviously, David Lynch agrees since Maclachlan signed on to the reboot as early as January 2015. It will be very interesting to see what Cooper's been up to since the end of last season. Fans will remember that he had just rescued Annie Blackburn from the Black Lodge. However, when he went to the bathroom after waking up in his room, he appeared to be possessed by BOB — the embodiment of evil who's responsible for Laura Palmer's death. 
2. Mädchen Amick as Shelly Johnson
Shelly, the perpetual waitress at the Double-R Diner and wife of the Leo Johnson, gets perhaps the closest thing to a happy ending of all the characters in Twin Peaks. Her abusive husband is gone, and her longtime boyfriend Bobby Briggs just asked her to marry him. Did their adolescent love stand the test of time? Based on their history together, it's a toss-up
3. Dana Ashbrook as Bobby Briggs
Regardless of whether or not he's with Shelly at this point, Bobby — track star and former boyfriend of deceased Laura Palmer — will be present in the revival. Despite his track record of getting into all kinds of trouble, Bobby had cleaned up his act somewhat in season two and was last seen proposing to his girlfriend Shelly. Unfortunately, she had to remind him she's still married to Leo, her currently absent husband. 
4. Kimmy Robertson as Lucy Moran 
Lucy, the befuddled receptionist at the Sheriff's office who's in an on-again-off-again relationship with Deputy Andy, also had a pretty good ending in season two. She told Andy she wanted him to be the father of her unborn baby, and the two said their first "I love you" to each other. Odds are her fully grown son will be introduced into the cast of characters. 
5. Peggy Lipton as Norma Jennings
The Mod Squad's Peggy Lipton plays Norma, owner of the Double-R Dinner and secret lover of Big Ed Hurley. Last time fans saw her, she had finally dropped her criminal husband Hank and was on the verge of getting engaged to Hurley, until his wife Nadine uncovered and spoiled everything.  
6. Everett McGill as Big Ed Hurley
Drama will likely ensue between lovers Norma and Big Ed in the revival, unless somehow, over the 26 years since the show ended, Ed managed to stand up for what he really wants and leave his crazy wife Nadine. 
7. Wendy Robie as Nadine Hurley
The last time Nadine was on the Twin Peaks scene, she had just competed in the Miss Twin Peaks contest. Then, in the mayhem that ensued toward the end, she was conked on the head with a sandbag. When she awoke from being knocked out, she'd lost her super strength and teenager personality, thus leaving Ed feeling obliged to stay with her. Has that obligation stuck 26 years later?
8. Russ Tamblyn as Dr. Lawrence Jacoby
The Hawaii-obsessed resident therapist who had Laura Palmer as a patient before she was murdered, was last seen bringing an inauspicious message via Sarah Palmer — Laura's mother — to Major Garland Briggs. Chances are he'll still be enacting his eccentric, and oddly personal psychiatric methods, on the people of Twin Peaks.
9. Miguel Ferrer as Albert Rosenfield
Agent Rosenfield —  the bad cop to Agent Cooper's good cop — was last seen going to arrest Josie Packard, owner of the local mill. However, that situation rectified itself without an arrest being necessary, much to the annoyance of Rosenfield. No doubt he'll be stirring up trouble in the wake of whatever investigation Cooper embarks upon in the upcoming season.
10. David Duchovny as Denise Downs
Anyone who's not excited for transgender DEA Agent Denise Bryson (previously Dennis) to make a return is not a true Twin Peaks fan. Her role on the show may have been brief, but man, was it unforgettable. She was last seen in the middle of the second season rescuing Cooper from Jean Renault. Lord only knows how she's going to pop up this time around. 
11. David Patrick Kelly as Jerry Horne
Here's a quote for diehard Twin Peaks fans — "Uncle Jerry's back!" Jerry was the little devil on the shoulder of his brother, Ben, the owner of the Great Northern Hotel. While he wasn't prominently featured in the second season, he was seen briefly hanging with Ben in prison when Ben was falsely arrested for Laura's murder. No doubt he'll be doing some of the same 26 years into the future.
12. Catherine E. Coulson as Margaret Lanterman/The Log Lady
Although actress Catherine E. Coulson died back in September 2015, her name does appear on the cast list of the revival. It's unclear how Lynch and co-creator Mark Frost made that work — perhaps they had unused footage from the original series? Regardless of the how, it's great news as the Log Lady was a big favorite among fans. She was last seen at the sheriff's station giving Agent Cooper a jar of oil from her husband, claiming it was "an opening to a gateway."
13. David Lynch as Agent Gordon Cole
Duh. How could Lynch resist revisiting the almost deaf Regional Bureau Chief of the FBI? He was last seen laying a big smooch on Shelly in the Double-R dinner with a hugely pissed off Bobby in the background. Maybe he'll do it again this time around?
14. Richard Beymer as Benjamin Horne
Mr. Horne, father of the mercurial Audrey, and owner of the Great Northern Hotel will indeed return, although in what state is unclear. At the end of his stint last season, he was trying to do right by his daughter and come clean about his affair with Donna's mother, which of course, led to him getting punched in the face. 
15. Sherilyn Fenn as Audrey Horne
Father and daughter together again! Audrey, who was always getting herself into trouble and falling in love with Agent Cooper and wealthy activist John Justice Wheeler, was last seen handcuffed inside a bank that exploded. Obviously, she got out of that one somehow. Or perhaps she didn't and her presence will be posthumous? 
16. Grace Zabriskie as Sarah Palmer  
Laura's mother Sarah seemed to never not be mourning someone close to her. Now that her daughter, husband and niece are dead, it's unclear what part she'll play in the revival. She was last seen bringing a message to Major Briggs with Dr. Jacoby. 
17. James Marshall as James Hurley
Parting is such sweet sorrow, especially for James who left four romances in the dust at the end of his stint on the original series. He was last seen riding off into the great blue yonder to find his next adventure, a.k.a. another woman whose life he can destroy.
18. Ray Wise as Leland Palmer
Father, lover, murderer of his daughter Laura Palmer and niece Maddy, Leland died in the cell where he was being held after confessing to his very bad behavior. It's likely his role in the revival will be in flashbacks, unless he's now in the Black Lodge with the others ...
19. Sheryl Lee as Laura Palmer/Maddy Ferguson
Who killed Laura Palmer? Maybe no one, because she's slated to return to Twin Peaks, as promised 26 years ago. Laura was last seen trapped in the alternate universe of the Black Lodge. 
20. Gary Hershberger as Mike Nelson
Mike was Bobby's best friend and a high school wrestling star. He was also the ex-boyfriend of Donna.
21. Jan D'Arcy as Sylvia Horne
Sylvia is Ben's frustrated wife and Audrey's mom. 
22. Warren Frost as Doctor Will Hayward 
Doc Hayward is the resident doctor of Twin Peaks and also Donna's father.
23. Alicia Witt as Gersten Hayward
Appearing in just one episode where she played the piano with aplomb, Gersten is Hayward's youngest daughter.
24. Charlotte Stewart as Betty Briggs
Betty is Bobby Briggs' mom.
25. Harry Goaz as Andy Brennan
Resident doofus, Deputy Andy's in love with Lucy, and he was asked by her to be the father of her baby.
26. Michael Horse as Tommy 'Hawk' Hill
'"Hawk" Hill is another deputy who's also an expert tracker. 
27. Phoebe Augustine as Ronette Pulaski
Ronette went to Twin Peaks High and was with Laura the night she died.
28. Walter Olkewicz as Jacques Renault
Jacques was a drug runner who once had sex with Laura.
29. Al Strobel as MIKE/Phillip Gerard
Just like how BOB inhabited Leland, MIKE is the evil spirit inside of Phillip Gerard, the "one-armed man."
30. Carel Struycken as The Giant
Struycken portrays the Giant from Agent Cooper's visions.
31. Julee Cruise as Roadhouse Singer
Cruise plays the unnamed singer from the Roadhouse.
Mic has ongoing Twin Peaks coverage. Please follow our main Twin Peaks hub here.